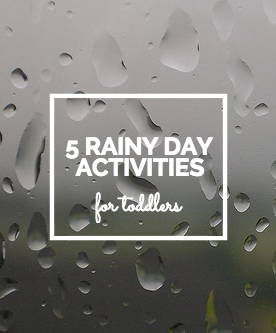 Although it's still the middle of summer, we all know the British weather has a tendency to change dramatically. So what do you do on those off-days to avoid going stir-crazy, when you're all stuck inside?
Here's five suggestions to keep your toddlers occupied when the weather forecast is grey, from TalkMum blogger Cath:
Have an indoor picnic for lunch: on wet and gray days we sometimes have a picnic in the living room. The boys help make sandwiches and choose snacks. We lay the picnic blanket on the floor and sit and eat. It's far more exciting than eating at the kitchen table
Making life size drawings: get some old sheets of wallpaper or large sheets of paper and get your child to lie on the paper. You can then draw round them and they can then colour or paint themselves. There's more art and craft ideas on Fran's post about toddler activities.
Hold your own cinema day: rather than going to the cinema you can watch a DVD and make your own popcorn. Buy popping corn from supermarkets or health food shops and all you need to do is add a little oil to a pan add the corn and wait for it to pop!
Get in the kitchen: My sons both love baking and cooking and it is so easy to do. They love making fairy cakes and then choosing different toppings to decorate them with. Licking out the mixing bowl is also fun too! You can also read more tips on cooking with toddlers for a stress-free experience
Why not go outside anyway? Children love splashing in puddles. Wrap them up well in waterproofs, a hat and a pair of wellies and go outside and splash! Don't let the children have all the fun, have a go too!
What's your favourite toddler tip for rainy days? Leave a comment and let us know.
Image: Frank Vincentz (own work) via Wikimedia Commons CC 3.0