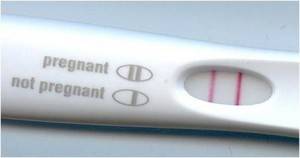 Discovering that you are pregnant can be an incredibly emotional time. But what happens when you have a positive test when you're not yet expecting it? Here Fozia discusses her feelings on finding out she was going to be a mum, and how scans helped her bond with her baby and make her look forward to motherhood:
When you find out you are pregnant, it is meant to be the most amazing thing that's happened to you, and you are meant to feel this overwhelming love for this baby that is growing inside of you.
However I didn't feel like that.
I had recently got married and immediately fell pregnant. It wasn't planned and people around me made me feel like it was the wrong time, and I couldn't cope.
'You don't have your own home yet.'
'You can barely look after yourself.' ( I am the youngest in the family and always treated like a child).
All this made me scared. What am I going to do? How am I going to cope? Can I really look after a totally vulnerable baby? I was just getting used to being a wife and now suddenly I was going to be a mum too.
Because of this I struggled to bond with this growing baby. I was pretty much in denial the first 3 months. I am lucky in that I don't have morning sickness, nor do I get a huge bump, so it was easy to ignore that I had this little life growing inside me.
The 12 week scan is when you first see your baby, and that is when reality hits; that you are really about to become a mum. It makes it all believable. I ended up having some major bleeding before my 12 week scan, and that's when I realised that I did actually care about this baby. I was scared that I had lost her and for 2 days I thought I had. Finally a scan revealed a heartbeat.
Seeing the heartbeat was the turning point. I slowly started bonding with the baby. But it was still a struggle.
I was still scared. My life was about to change. I was going to have to grow up fast. Could I really be a mum? Could I really look after a baby? What if I didn't fully bond with her when she arrived?
However, there was nothing to worry about. As soon as she was handed to me after a quick delivery, there really was an overwhelming feeling of love when she opened her eyes and tried to focus on me. I immediately began feeling protective of her.
I vowed to do my very best for this little person…and I did. That's all you can do as a parent. Your best.
Fozia is a mum of 2 daughters. She was working as a legal adviser at the Citizens Advice Bureau but is currently a stay at home mum after being made redundant. She blogs at Muslim Mummy about her life in general and all things relating to babies, toddlers and children.