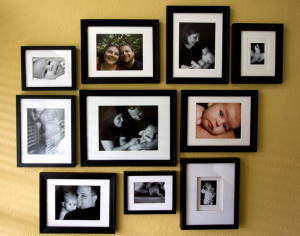 How do you make sure you capture memories and keep a record of your children growing up? Here's Cath on the part that photography plays in her family life. Make sure you also read Marissa's post on newborn photoshoots:
I have always taken photographs and love looking back at old photo albums. It is so much fun laughing at the fashions of the time and remembering family days out and holidays. My Mum has albums from every year, going back to when she first got a camera in the late 1960's as well as hundreds of slides. I remember having slide shows on wet afternoons and it always seemed much more exciting than just looking at a photo album. When we had our eldest son I wanted to carry on the family tradition and so we took lots of photographs and I made lots of albums. Unfortunately as he got older work got in the way and I ended up just putting the photos in a growing pile in the corner of the lounge!
However every few months I try and sit down and add more photos to the album. Whilst it is time consuming I really enjoy putting the albums together as the photos are full of memories. The earlier albums contain a lot of milestones like the first smile, first tooth, first haircut, first shoes and many more firsts. The later albums are full of days out, special occasions, birthdays and holidays. Now I have a camera on my phone I take a lot more photographs as it is easy to take a picture when we are out. I only print the photos that I want in my albums but I keep all the photos I have taken on an online photo storage facility so that we won't lose all our photographs if something happens to the computer. Digital photography is so much better than the old fashioned films as you can keep taking pictures until you get the right pose and then just delete the bad photos. My husband is also a keen photographer and is currently doing the 365 photography project where you take a photo every day for a year. He is uploading them onto his blog so we can look back on them in years to come.
I have also heard of people taking a photograph of their child on the first day of every month so that you can look back on their progress in years to come. I thought this was a really good idea but I was never organised enough to actually do this, although here's a good example on the Our Day by Design blog.
How do you store your photos; printed out in albums or still on the computer?
Cath is an accountant, blogger and proud mother of two sons aged 6 and 10. Cath's house is always full of children and as she lives on a farm they have plenty of space to play outside. She knows her stuff when it comes to having children – as you can see by reading her personal blog here. Photo thanks to Travis Issacs on Flickr