This week the 2016 Royal College of Midwives Annual Midwifery Awards took place. The awards celebrate, share and reward outstanding achievement in midwifery across the UK.
The awards were held at The Brewery in London, and hosted by journalist, broadcaster and mum of two Kate Silverton.
It was an inspiring – and very emotional – event to honour midwives and maternal support workers from across the country, and the amazing work they do.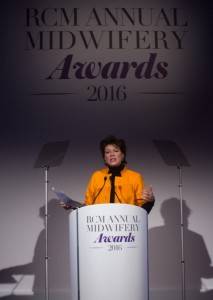 This year Vitabiotics Pregnacare sponsored the award for Maternity Support Worker of the Year, which was won by Leigh-Ann Johnstone who works for NHS Lanarkshire as a breastfeeding support service assistant.
Leigh-Ann, who is 27 and has two young sons, works at Wishaw General Hospital in the neonatal unit, where Lanarkshire's premature, sick and vulnerable babies are cared for.
She joined the unit a year ago and was nominated by acting infant feeding development midwife AnneMarie Bruce for her work, which has seen a significant rise in the numbers of babies receiving their mothers' milk.
Leigh-Ann also offers both emotional and practical support for parents, both during their time at the unit and once they leave.
She was presented with her award by Emma Haberton, Senior Marketing Manager at Vitabiotics Pregnacare.
Huge congratulations to Leigh-Ann from everyone here at TalkMum, Pregnacare and Vitabiotics; and congratulations to all the award winners and nominees – and, of course, midwives up and down the country for the job that they all do at a crucial turning point in the lives of all parents.
Make sure you read our interview with blogging midwife Clemmie Hooper, and all our advice from our Pregnacare midwife.