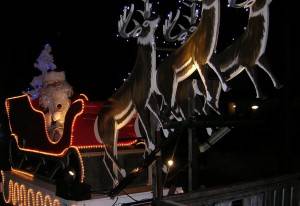 With only six days until December 25th, there's a now final push on planning and present buying to make everyone's day perfect. But what about people living in poverty who won't have such a happy time this year - especially children? Here's Laura on her husband's Christmas charity initiative:
As the countdown to Christmas enters its final stages, families up and down the country snuggle up together beside a roaring hearth. Christmas trees stand proudly, decorated with twinkling fairy lights adorned by baubles which sparkle as they catch the light. Close by, parents quietly curse over all the Christmas shopping that needs to be done. The sound of ripping Sellotape can be heard across the land in the evenings leading up to the big day. Come Christmas Day children will wake early, eager to discover if Father Christmas has left a haul of gifts under the tree. Families will rejoice together, eat together, and fall asleep on the sofa together while the Queen's speech plays on the TV...
But what about the 5-year-old who has to get himself up, dressed, fed and off to school because his parents can't bear to get out of bed, burdened with debt and guilt? What about the teenage girl who is angry with the world because she witnessed repeated episodes of domestic violence? What about the young boy living in poverty who is bullied mercilessly every day on the bus to school? What about the 12-year-old with the troubled background who has been repeatedly let down by so many adults and is now described as a 'lost cause' by some?
What type of Christmas will these children have?
The heart-breaking thing is that these children are real. Their lives are real. They live in an area not a million miles from where I live.
There are 3.5 million children living in poverty in the UK, according to official figures. That's almost a third of all children. 1.6 million of them are growing up in homes which are too cold.
The charity Barnardo's says poverty can have a major impact on a child's health and development: 3-year-olds living in the poorest households are much more likely to suffer from a chronic illness than children from richer families, less than half of 5-year-olds entitled to free school meals have a good level of development at the end of their school year and only 36% go on to achieve 5 GCSEs at grade C or above. Families living in poverty can have as little as just £12 per day per person to buy everything they need such as food, heating, toys, clothes, electricity and transport, says the charity.
I feel incredibly lucky that my family doesn't struggle like this, but with the cost of living continuing to rise, wages remaining low and jobs being lost, poverty is something that lurks in the shadows for us all. Most families living in poverty (63%) have at least one person who works. It could easily happen to any one of us.
Putting a little Christmas joy into children's lives
Every year, my father-in-law works with the local social services, police force and others to organise presents for children spending Christmas in our local hospital and for some of the area's more disadvantaged children. He's been snowed under with requests this year so my husband has stepped in. Working with two local police officers and a local children's centre he was moved to hear some of the heart wrenching stories. It grew in him a passion to help and has set about making sure these children have something to open from Santa this Christmas.
He was given a list with about 10 names or so of children who could really do with a present this Christmas, something special to make them smile on what is the biggest day of the year for so many families. Meanwhile, the local children's centre was holding a festive party for more than 50 others this week. My husband worked with our local charitable Round Table group to make sure every single one of them got a gift.... and a visit from Father Christmas himself. The reception was emotional.
I am so proud of my husband.
There may not be a lot we can do as an individual family to help others living in poverty, but if we can play even the smallest part in bringing a little Christmas magic to these children, to help them feel just a little bit special, then it's worth doing. Every child deserves to feel special at Christmas.
Laura is a full-time working mother of two fabulous but sometimes fiendishly cheeky young children. When's she's not chasing her brood around the house or wiping chocolate off the furniture, Laura works in PR and also as a freelance journalist. She pens the award-nominated parenting blog, Chez Mummy and in 2012 founded Working Parents United, a website to support working mothers and fathers across the UK.