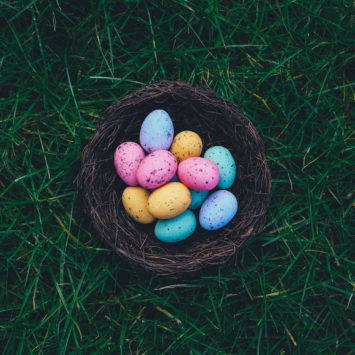 With the Easter break just around the corner, we're rounding up the best Easter-themed activities for families
With a four day weekend looming, what are the best Easter-themed activities for you to do with your family?
Go on an Easter egg hunt: The classic Easter activity, egg hunts are fun for the whole family. It doesn't have to be anything fancy; you can hide eggs in your garden or even your house if it's raining (which is probably will be). We love this post about adapting egg hunts for children with additional and sensory needs.
Hold an easter craftacular: Easter is a great excuse for getting the glue and glitter out, with so many different types of topical crafts, from egg painting to bonnet making. Gather some ideas from our Easter craft round-up to get you off to a good start. We have lots more ideas over on Pinterest.
Get in the kitchen: As well as being great for crafts, Easter is also a brilliant cooking occasion for little ones, with the classic Easter nest being our favourite, Read our tips on stress-free baking with small children.
Go on an Easter walk: Fingers crossed on the weather front!
Recycle your leftover eggs: Wait, leftover chocolate - is that likely? But in houses where you've been deluged with many eggs it is possible you have too many to eat. Read our post on five ideas to reuse leftover Easter eggs for some inspiration and tips. There's even a great idea for making Kinder Egg maracas.
Have a wonderful Easter - make sure you also enter our competition to win a Summer Infant portable baby chair and a subscription to Ask the Midwife