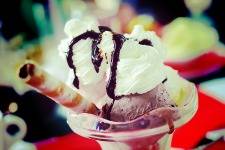 According to new research, our children are eating too much sugar. Government health experts recommend refined sugars only take up a tenth of a person's calorie intake but make children are having 50% more than this.
Professor Kevin Fenton, national director of health and well-being at PHE is involved in the Change4Life campaign, which the Department of Health is hoping will encourage families to consume less sugar. "Reducing sugar intake is important for the health of our children both now and in the future," he says. "We are all eating too much sugar and the impact this has on our health is evident. This campaign is about taking small steps to address this."
There are some easy ways to cut back on the amount of sugar your child is eating and drinking, without them even batting an eye lid.
1. Drink water at all meals. This sounds like an obvious one, but getting into the habit of having a large jug of water at the table during all meals makes such a difference. You might be giving your children fruit juice or low sugar squash, thinking it's a sensible option but there's actually a lot of sugar in a cup of apple juice.
2. Eat a wholewheat cereal at breakfast rather than a sugary cereal. Add raisins for sweetness, if the children say they miss the taste of the sugary cereals.
3. Cut back on ready meals – those pre-packed microwave meals seem like an easy option when you're frantically busy and need a quick dinner for the family, but they're often high in sugar (and salt) so boiling up some pasta and making a quick tomato sauce with veg can be just as quick, and healthier.
4. In summer months, make your own fruit smoothie ice lollies. Buy lolly moulds and pour in a mixure of blended semi-skimmed milk, strawberries and banana. Little ones will love them.
5. All kids like ice cream but by swapping to a low sugar yogurt, you'll be cutting down on the amount of sugar they eat.
Do you have any more tips for reducing the amount of sugar your little ones eat?