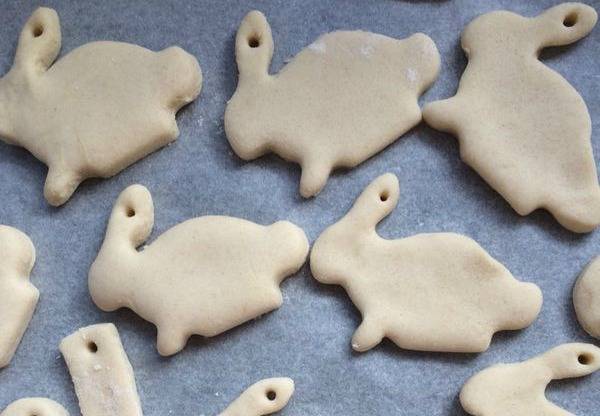 Looking for the best Easter-themed creative craft activities and brilliant baking ideas for children? Here's a round-up of all our favourites...
Do you want to get crafty this Easter? With the long weekend holiday on the horizon, we've rounded-up our favourite craft and baking activities for you to do with young children.
So put a spring in your step and get cracking with our eggstravaganza of craft activities for kids! (Terrible puns intended).
Make very easy Easter salt dough decorations (these use an Easter bunny shaped cutter, but any vaguely round / egg shape would work really well). These are very easy and use store-cupboard ingredients you're likely to have in the house anyway - plus all the fun is in the decorating.
How about some fun and colourful egg-themed glasses? We love this quirky craft over on Let's Do Something Crafty.
Or if you're looking for something different with an outdoorsy, spring theme then we like these cotton wool blossom trees - hours of fun.
If you have lots of spare wool lying around, then why not make pom-poms? This idea for DIY pom-pom bunnies over on Tigerlilly Quinn is sure to be a winner. Or these toilet roll Easter bunnies from Adele at Beautiful Tribe are very simple.
It might still be grey outside, but cheer up your windows with these spring flower sun catchers that Polly from Enchanted Pixie made with her children
And of course, who can forget the classic Easter craft - daffodils made out of egg cartons? These were designed for St David's Day but would look great brightening up the house around Easter (and won't need watering - bonus). And if you have loads of spare cartons lying around then use them to make an Easter wreath.
If you're wanting to get into the kitchen, then we like the look of these lemony Easter chicks or the classic Easter nests (who can resist these?) Make sure you read our tips on baking with children to avoid any kitchen disasters.
If you're looking for ideas for sprucing up your table for Easter dinner, then check-out this child-friendly and colourful table-treatment from Lori at Wild and Grizzly. And one for the adults, here's three quick Easter home DIYs from LapinBlu.
Hope you're looking forward to Easter! Make sure it's a healthy one - read our list of tips for tired mums and dads.