How do you decide when the time is right to start trying for your first baby? Will you instinctively know when you're ready to try for another? And is there any such thing as a perfect age gap between siblings?
October on TalkMum is all about conception; here's Fran on the choices that worked for her family (make sure you read Fran's blog, TheParentSocial)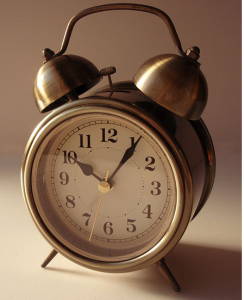 I have a hazy recollection that in my early 20s I mentally noted that I'd like to have my first child by the time I was 30.
Fast-forward a couple of relationships and quite a few years later to my boyfriend proposing on my 28th birthday in December, in Barcelona. Nine months later we were married; a short engagement, not for baby making purposes, but just because… well, why wait?
We wed in the September but as we'd decided to honeymoon in Argentina, delayed the trip until late November so that we'd get nice spring weather. I certainly did not want to be pregnant for Honeymoon so carried on taking the pill. We returned home the first week of December and I decided I didn't want to be trying to conceive during the booze-fest season of my birthday, Christmas and New Year.
Early 2008 heralded the end of contraception. I had no idea how long it would take to conceive and as I had recently been told that I likely had polycystic ovaries (they wouldn't do a scan to confirm until I'd been trying to conceive for a year) I didn't want to delay too long, especially as the time just felt right. We had bought our house before getting married and had done all of the renovations, so we were pretty settled. Seeing as I was already 29, and blissfully happy as a newlywed, I had completely put the 'first baby by 30' idea out of my head; there were no deadlines, but once again, I thought: why wait? By early March I had taken several pregnancy tests, and they all said positive.
Sofia was two weeks overdue, which resulted in her arriving eight days before the big 3.0. What a fantastic present! It definitely felt like fate and not planning that had come into play.
We always knew that we wanted more than one child, but second time around not only were we contemplating what sort of an age gap we wanted between child number one and baby number two, we were also considering factors such as the size of our house, general finances and the costs of childcare for two if I was to return to work. I'd also heard a lot about second time infertility - not just headlines, but from people I knew. It seemed really common, so I had this in the back of my mind and thought that it would take that bit longer to conceive second time around. I'm a massive worrier and I knew that after 35 conception rates reduce and that there were a number of risk factors after this age.
I definitely did not want back-to-back babies though. I thought a three-year age gap sounded good: a small enough gap that the siblings would hopefully be able to play together still, but far enough apart that the terrible twos would, with any luck, be a distant memory. Maybe, if I'd been younger or a more patient person, I would have considered a four-year age gap so that Sofia would be starting school soon after the baby was born. The issue of sibling age gaps is so subjective and a topic that I find quite fascinating and which I have discussed on my own blog: What is the ideal sibling age gap?
Being a cutely proportioned, two-bedroom cottage we knew our home would be too small for a family of four, so we put it on the market before we did anything drastic. After it had been on the market for a couple of months, with a number of positive viewings, we took the plunge. A couple of weeks later I was pregnant - with twins. I had not expected to get pregnant immediately and I certainly hadn't bargained on a double whammy. All of a sudden we were in a massive rush to sell the house; it wasn't suitable for four, let alone five! The housing market was in a fragile state and a month before I was due we took it off the market and moved in with my dad.
I was induced at 38 weeks, which gave a 33-month age gap between first and second, and a 21-minute gap between second and third!
Just before the twins' first birthdays, we bought our 'family home'.
I think it all goes to prove that you can't really plan these things too stringently, and that there probably is never going to be an 'ideal' time. Life throws up surprises, good and bad, and I don't think you can base having a first, second or subsequent baby on what you think may or may not happen.
How did you decide when the time was right to start trying for a baby?
Fran is a graduate, wife, mother of three girls (a four year old and 15 month old twins) and, until recently, PR manager for a global financial website.
A blogger and Hubber on some of her favourite subjects, which range from parenting, food and wine to Italy, investing and football; some of Fran's writing can be viewed on her blog, The Parent Social.