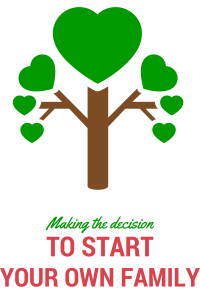 That moment when you first discuss wanting to start a family can be a special one. The butterflies in your tummy, the anticipation of what your future will look like, the practicalities of stopping using birth control. Here, TalkMum blogger Fran from The Parent Social shares that moment with us - and their decision to try for a second baby...
Matt and I had talked about how we both wanted children quite some time before he proposed. We got married in September 2007 and then honeymooned in Argentina in late November of that year. We both knew that we wouldn't wait years before trying for a baby, but I definitely did not want to be pregnant for honeymoon, especially one in the land of rare steak and Malbec wine, so I continued taking the Pill.We got back the first week of December and I decided I didn't want to be trying to conceive during the party season of my birthday, Christmas and New Year. So after the festivities drew to a close, the time seemed right, and in mid-January 2008 I came off the Pill. Apart from stopping contraception and taking folic acid, nothing else changed.
It's perhaps because so little had altered that I was pretty shocked in early March, when I took a pregnancy test (only to confirm that I wasn't pregnant so that I could continue taking some medication) and it came up positive. I was so surprised in fact - as I had no pregnancy symptoms - that I took several more tests. I was unaware at the time that you can get false negatives but not false positives.
When we decided to try for a second baby, more thought went into deciding when to come off the Pill. We considered what sort of an age gap we wanted between child number one and baby number two. I definitely did not want back-to-back babies, but at the same time didn't want to wait too long; a three-year/three-and-a-half-year age gap felt about right. We also had to consider whether our small two-bedroom house would be suitable for a family of four as well as think about our general finances and the costs of childcare for two if I was to return to work (I had returned to work part-time after baby number one). Another thing that was specifically on my mind was 'secondary infertility' which meant I didn't want to hang around too long.
We put our house up for sale, and after it had been on the market for a couple of months, with a number of positive viewings, I stopped taking the Pill. If the first time was fast, the second time around was supersonic; I was pregnant a couple of weeks after stopping contraception. We had not expected to get pregnant almost immediately, so we were a bit shocked once again, although not as shocked as when we later discovered I was expecting twins! It wasn't quite the three-year plus age gap I had in mind, but the 33-month gap has worked out just fine and I know I have been extremely fortunate.
How did you feel when you decided to start trying for a baby? What's the 'perfect' age gap between children? Tell us your thoughts in the comments below or tweet us @TalkMum!