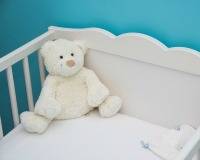 We look at the new co-sleeping guidelines and answer your questions...
Research shows that co-sleeping, combined with other factors may play a part in Sudden Infant Death Syndrome (SIDS) and the National Institute for Health and Care Excellence (NICE) today published new guidelines about co-sleeping with infants under one.
Recognising that some parents may choose to share a bed with their baby for a multitude of reasons, the updated recommendations ask healthcare professionals to make sure parents and carers of children are aware of the potential risk.
What is NICE?
The National Institute for Health and Care Excellence (NICE) is the independent body responsible for driving improvement and excellence in the health and social care system. They develop guidance, standards and information on high-quality health and social care. They also advise on ways to promote healthy living and prevent ill health.
Their aim is to help practitioners deliver the best possible care and give people the most effective treatments, which are based on the most up-to-date evidence and provide value for money, in order to reduce inequalities and variation.
What do the new guidelines say?
Hundreds of babies in England and Wales die unexpectedly in their sleep every year. This is known as SIDS. Not much is known about why it happens, but research suggests that co-sleeping (falling asleep with your baby in a bed, or on a sofa or chair) combined with other factors may play a part in some way.
Parents or carers with a child under the age of one should be told about the factors associated with co-sleeping and SIDS to allow them to weigh up the possible risks and benefits and decide on sleeping arrangements that best fit their family.
Professor Mark Baker, Director of the NICE Centre for Clinical Practice, said the updated guidance is important to consider alongside other safe sleeping advice: "For many years, the Department of Health has advised that the safest way for a baby to sleep is on its back, in its own cot or moses basket in the parents' room for the first six months. This advice had, and continues to have, a significant effect on reducing baby deaths.
"Sadly though, there remain a small number of babies who will die unexpectedly for no apparent reason.
"We don't know what causes these babies to die suddenly, but we do know that if a parent smokes, drinks alcohol or takes drugs then Sudden Infant Death Syndrome is potentially more likely to occur if they then co-sleep with their infant. There also appears to be an association between co-sleeping and SIDS if the child was born prematurely or with a low birthweight."
The updated recommendations – which cover the first 12 months of a child's life – also say that healthcare professionals such as midwives, health visitors. GPs and others should inform parents and carers that the association between co-sleeping and SIDS is likely to be greater when they, or their partner, smoke, if they have recently consumed alcohol, used drugs or if the infant had a low birth weight or was premature.
Is it now considered dangerous to co-sleep with a baby?
Not necessarily, but it's important that before you consider co-sleeping with an infant under one, you're aware of the potential risks. Elaine McInnes, a practice teacher of health visiting and professional development officer from the Institute of Health Visiting, helped to develop the new NICE co-sleeping recommendations. She said: "Being a new parent is exhausting. We know that many new mothers and fathers will, at some point or another, fall asleep with their newborn and parents should not feel guilty or embarrassed. Sharing a bed with your baby at night can aid breastfeeding and in some cultures, co-sleeping is seen as perfectly normal. However, the Department of Health advises that the safest place for a baby to sleep is in a cot, and if that cot is beside the bed it need not interfere with breast feeding.
"The conversation about co-sleeping and the factors that may make SIDS more likely should begin before the baby is even born and discussed at every visit, up until the child reaches its first birthday.
"It's important that parents are given the most current evidence-based information as far as possible, are comfortable and happy in the decision they make with regard to sleeping arrangements and are supported in making the safest choices for sleeping arrangements."
What do other experts say?
The Lullaby Trust is a charity which works with families whose lives have been devastated by the sudden and unexplained death of a baby. Francine Bates OBE, Chief Executive of The Lullaby Trust, welcomes the updated guidance, saying: "The new guidelines from NICE will help professionals have conversations with families both before and after the birth of their new baby.
"We want all health care professionals to be fully informed of the association between co-sleeping and SIDS. Parents hugely value and trust the information and support they receive from GPs, Midwives and Health Visitors. All of us should be working together to give clear messages to new parents empowering them to make decisions which are in the best interest of their baby."
How do you feel about the guidelines? Will they make you think more carefully about co-sleeping? Let us know by commenting below or by tweeting us @Talkmum.