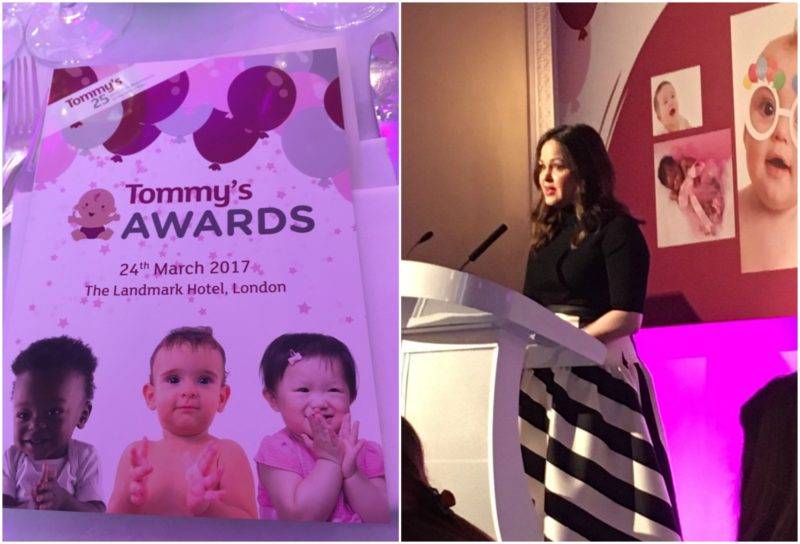 Last week we celebrated 22 years of theTommy's Awards
Last week we attended the Tommy's Awards at the Landmark Hotel in London, hosted by celebrity mum blogger and Mother of the Year winner Giovanna Fletcher. The awards were as emotional as always and there was a packed audience of household name companies and Tommy's supporters. We were thrilled to pick up an award for Pregnacare in the Best Pregnancy Supplement category.
Now in its 22nd year, the Tommy's Awards recognise and reward the families who have triumphed over adversity and the family-friendly companies who have made life that little bit easier for baby and mum.
This year 36,000 people cast their vote via Bounty, the pregnancy and parenting website. The awards are nominated and voted for by the public, in categories ranging from Best Holiday Provider to Best Skincare Product for Mums.
The Tommy's Awards also recognise heroes of families who've have been touched by pregnancy complications, or the loss of a baby. Each year in the UK, one in four parents lose a baby through miscarriage, stillbirth and premature birth. They also include individual awards such as categories for Super Sibling, Doting Dad, Inspirational Mum, Courage, Angel, Little Champion and Mum's Voice.
Dr Sarah Stock, an Honorary Consultant and Subspecialist in Maternal and Fetal Medicine gave an inspiring keynote speech describing some of the pioneering research being undertaken at the Edinburgh Research Centre to improve neonatal and longer-term outcomes.
We were in great company along with the ever-popular Peppa Pig and guests including The Dad Network and blogger-turned-author Clemmie Hooper, who we recently interviewed. You can see a vlog of the day that that host Giovanna recorded here.
As always, the awards were inspiring and it was wonderful to hear about the pioneering work of Tommy's.
Thanks to everyone who voted for Pregnacare!