We've looked at how you can boost your fertility naturally, but what about more alternative methods? Here's TalkMum blogger Chloe on one of the more unusual things she tried to help her get pregnant. But did yoga work for her?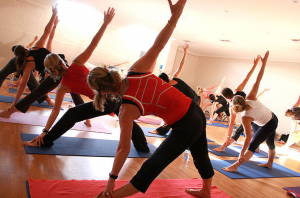 I was approaching 30 when James and I had the conversation about having a baby. It turned out that it was what we both wanted. That was a good start. Also, in our blissfully ignorant state we both agreed that we probably wouldn't find looking after a baby too difficult, given our experience of looking after a cat.
Anyway, we decided that we were in no big rush, and that we would just see what happened. The only efforts I made to improve our chances of conception were starting to take folic acid and giving up my daily lattes. I'm sure it was no coincidence that this was the point at which Starbucks' profits took a dip.
Several months down the line nothing was happening, so I decided that it was time to bring out the big guns. Yoga. I had no idea whether it would be helpful or not, but I figured that doing what I could to stay healthy and relaxed couldn't be a bad thing. And, to be honest, the pre-baby me really enjoyed flouncing off to that overpriced yoga studio in Covent Garden.
I remember heading off to a yoga class one Friday night after work in the cold depths of winter feeling a bit sick and achey. I couldn't quite put my finger on why I felt so crook, but it all became apparent a few days later with a positive pregnancy test.
Samuel came along a good couple of years after that first conversation. We're extremely lucky. I can, however, confirm that having a cat helped us to prepare for parenthood in absolutely no way whatsoever.
What was the most unusual thing you tried to help you get pregnant - and did it work?
Chloe is a copywriter who lives in South London with her six-month-old son Samuel, her husband, and their long-suffering cat.
She blogs about life as a London mum and never having enough time to knit at Knittenden.
Image credit: LocalLocalFitness,com.au