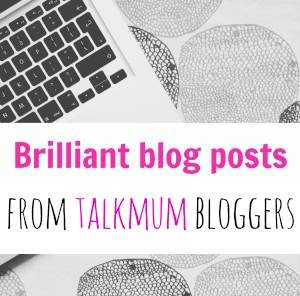 Our TalkMum bloggers have been busy writing some amazing posts this month. Here's a small selection...
If you're looking for summer holiday activity inspiration, check out Fozia fromMuslim Mummy who has been to Chessington World Of Adventures.
Katrina from Cool Bananas has been blogging about how they converted their garage into a family space. She has a great looking desk area too.
Alison from Not Another Mummy Blog went on a caravan holiday to Cornwall with her four-year-old. Read all about it on her blog.
Do you have kids on school holiday? Fran from The Parent Social is keeping a diary of her time with her girls. See what they get up to over on her blog!
Emma from Brummy Mummy of 2 is also talking about school holidays - she predicts they're going to be filled with paddling pools, picnics and sand.
Remember what summers were like when we were kids? Gill from A Baby On Boardis reminiscing about Whigfield's Saturday night and those fizzy drink branded yo yos that everyone had!
If your child's starting school in September, it's probably worth thinking about spending the summer getting them ready. Eilidh from Mummy & Monkeys has a great checklist of things to focus on.
Eleanor from The Bristol Parent was inspired by the recent heatwave to write Things to do in Bristol when it's hot - there are some great ideas here for keeping little ones cool and entertained.
Got a child's birthday coming up? Rachel from Make A Long Story Short made an amazing balloon wall for her son's birthday recently and here she explains how she did it!
Laura from Chez Mummy was remembering someone very special to her, on her birthday, this year. Read why on her blog.
Have you read - or written - any brilliant blog posts this month? Comment below!