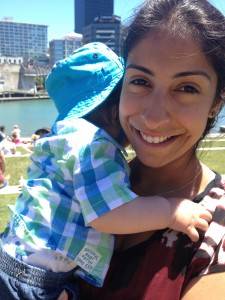 Thinking about going back to work once maternity leave is over, but not sure how you'll cope? Here's Kiran with a survival guide for working mums:
I went back to work when my first baby was four months old. It was for just two days a week and my husband stayed at home with our son, but it was hard on all of us. It did, like everyone said it would, get easier as our son got older, but those early months were exhausting. I was breastfeeding and my baby was still up a lot in the night. My office job was busy and stressful and I worked long hours - but I loved working and I wanted to get back to it.
Looking back though, I think we all got a lot out of it. My husband understood what it was like to be at home all day with a baby, and I understood what it was like to be at work all day after a sleepless night while missing your child. The experience definitely made us work together as more of a team. My husband and son got precious bonding time together, and I managed to get the mental stimulation I had been missing while at home - and it meant our mortgage got paid.
There were a few things that helped us through those hard early months. The experience of returning to work will be different for everyone, but hopefully some of these tips will be useful for you too:
Accept that it's going to be different
You won't waste hours gossiping in the staff kitchen anymore, because you won't want to stay late to get your work done. You won't go to the pub for after work drinks anymore because you'll be itching to get home and see your little one. Accept all of this, and don't dwell on it. Next time you feel like you're missing out - remember the cuddles and smiles that await you when you walk through the door at the end of the day.
Become super organised
Suddenly there are even fewer hours in the day than ever. Cook in bulk at the weekends so you always have a freezer full of leftovers. After a long day at work on little sleep, you don't want to spend hours in the kitchen. And, even if you do, you won't have the energy. Reheat a meal from a few nights ago and spend the time reading to your little one or relaxing with your other half instead.
Plan your wardrobe ahead
This might sound obvious, but every precious minute counts in the mornings when you are trying to get out of the door and get to the office. I always sorted out my baby's clothes for the next day the night before - partly because I didn't trust my husband to put enough layers on him. I also made sure my own clothes were ironed and ready. I learnt quickly never to change into them until the last moment though - if I did it was a sure bet my son would be sick on me.
Don't over-commit
You're no longer that person at the office who agrees to overtime without pay. You're no longer the employee who will do everything anyone asks just because they don't fancy doing it themselves. Your priorities have changed, and that's fine. You can still do your job, but you can also get to nursery on time to pick up your baby.
Start preparing months in advance
If your child is going to nursery or a childminder, start the settling in process early. It can take a while for little ones to get used to somewhere new, and you want to be able to return to work with the knowledge that they are settled. Similarly, if someone is going to be giving your baby a bottle for the first time while you are out - get them used to it early. My son would hold out and refuse the bottle until I got home and could breastfeed him. Worrying about how much he was eating while I was in the office was really stressful.
You will be exhausted
If you're still having sleepless nights, or if you are breastfeeding and expressing while at the office, or even if you're doing neither - you will be tired. Having a child is tiring, but having a child and working is tiring too. Remember, however, that you won't be exhausted forever. There's also always an upside - don't feel guilty about it if you like being at work. Make the most of the change of scene and the adult company. And, best of all, enjoy going to the toilet by yourself and drinking your tea while it's hot.
What tips do you have for parents returning to work?
If you're returning to work and still breastfeeding, make sure you read Charlotte's guide to expressing at work.
Kiran is a freelance writer, journalist and blogger who recently returned to her hometown of London after nearly a decade of living overseas. She is mum to a toddler, and a newborn. Kiran blogs about all things mumsy over at Mummy Says.