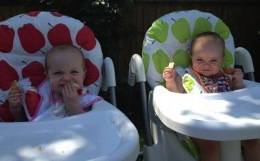 Weaning your baby is an important milestone and an exciting time. It sounds like it should be very straightforward, but as with all things baby-related, there's a lot of conflicting advice, competitiveness, worry and frustration attached. Here's Fran from The Parent Social with a guide to composite weaning, You can read more of Fran's TalkMum posts here:
The Government currently recommends that weaning should start at six months; current research suggests that it may be safe to start from four months, – arghh there's that contradictory advice again – and you've probably been told by older relatives that back in the 70s three-month olds were enjoying three square meals a day complete with starter and pudding!
I decided to start weaning at five-and-a-half months for Sofia and at five months with my twins as I was getting some very clear indications that they were ready.
Go with your instincts but bear in mind that before four months your baby's digestive system is not really developed enough and after six months milk on its own won't meet your baby's nutritional needs.
I'd decided on when and that I didn't want to use pre-prepared baby foods but then there seemed to be a pressure to choose a 'style' of weaning: baby-led versus traditional spoon-feeding. It felt to me that it was as if the style you chose defined what kind of parent you were.
I liked the idea of finger foods as this allowed my children to self-feed and stimulated their interest in food, but I also wanted the reassurance of knowing how much they'd eaten, which came with spoon-feeding.
Nobody seemed to talk about a combination or a composite approach, which blended both styles. I found it easy to combine them for a more flexible way of weaning. There are a number of pros and cons for each method, so for me a composite approach made the most sense.
Baby-led weaning
Pros:
Greater independence
Develops pincer grasp/fine motor skills
Self regulate food intake – learn to understand huger cues
Linked with lower instances of obesity in later life
Cons:
Potential for iron deficiency
Choking more likely
More difficult to ascertain whether baby has eaten enough
Fewer foods that can be offered as not all suitable as finger foods
Spoon-feeding/purees
Pros:
Parent is able to monitor more easily how much is consumed
Greater variety of food can be offered
Baby can eat the same as the rest of the family
Easier to make nutritionally balanced meals
Cons:
Lack of child independence
Has been linked to obesity as child could keep eating until parent decides they've had enough
Don't understand hunger cues so well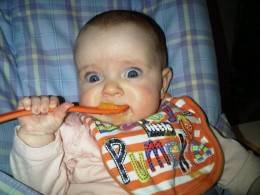 I started with one 'meal' a day at breakfast time – just a couple of spoons. The baby rice on its own was very bland, but it was a good starting point nonetheless. We quickly progressed and combined it with steamed fruits at breakfast and used it to bulk up vegetable purees. After a couple of weeks we dispensed of it.
As they were really enjoying what they were having we moved fast and upped to three meals a day within a couple of weeks. I don't know if this is textbook, but they happily devoured breakfast, lunch and dinner. I started introducing lumpier textures, mashing vegetables and giving them as finger foods instead of pureeing. From there it wasn't long before they were eating the same as everyone else, but with a few modifications; namely omitting salt and strong spices. All three have been brilliant eaters so far (we did have an issue with refusing anything off a spoon at around eight months, but that's a whole other blog…) so the approach seems to have worked!
Examples of what I gave in the first couple of weeks
Sweet potato puree
Broccoli and potato puree
Cauliflower puree
Carrot, baby rice and usual milk
Baby rice and mashed fruit (banana, steamed apple, steamed pear)
Mashed avocado
Next couple of weeks
Big pasta with grated cheese as a finger food or very small pasta to spoon feed
Pasta with simple tomato sauce
Omelette (well cooked) with cheese, spinach etc as finger food
Cauliflower and broccoli in cheese sauce
Toast
Vegetable puree with couscous
Steamed vegetables as a finger food (green beans, mange tout, tender stem broccoli, carrots etc)
Rice cakes
Fingers of cheese
Cherry tomatoes (cut in half)
Did you pick just one weaning method, or did you try a composite approach? Share what worked for you in the comments below.
Fran is a graduate, wife, mother of three girls (a four year old and 15 month old twins) and, until recently, PR manager for a global financial website. A blogger and Hubber on some of her favourite subjects, which range from parenting, food and wine to Italy, investing and football; some of Fran's writing can be viewed on her blog, The Parent Social.