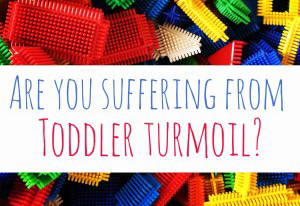 Think your lovely, angelic newborn will be the same forever? Think again. For toddler month, here's Marissa from Little Rascal Reviews on the more interesting activities her boys get up to now they are older...
Much as I adore my boys, sometimes very often they do things that have me wondering what on earth hubby and I were thinking five years ago before we embarked upon our journey into family life. The days we sat around daydreaming about little (slightly more perfect) versions of ourselves running around squealing with delight, happy Sunday afternoons spent watching family movies snuggled up on the sofa, etc, etc ad nauseam.
Now babies are one thing but toddlers are, well...something else altogether. I'm going to share with you some typical toddler 'crimes' committed by my boys. However, I also realise that "what goes online, stays online" and as such I've spared them anything too embarrassing should they get a job running the country in a few years time!
Body modifications – Yes, there's clearly nothing as exciting as decorating yourself with whatever you happen to have to hand; pen, paint or stickers are all tried and tested methods among the toddling crew.
Home decorating – Toddlers can be incredibly helpful. Take R for instance, he painstakingly went around the playroom ensuring he covered each and every one of his hundreds of toys with a generous sticky blob of green paint. He was clearly unimpressed with my lack of gratitude for his efforts.
Oh, and let's not forget the obligatory drawing on the walls movement, surely a right of passage for every tot?! To the untrained eye, this might just look like a streak of red felt tip down my wall, to a toddler this was "measuring up" in preparation for further work...
Tissues – Are absolutely deserving of their own section. Contrary to popular belief, tissues are not in fact for blowing your nose. They are for removing from the box, munching and tearing and woe betide anyone who tries to tell them otherwise.
Food - Linked to and often confused with 'Body Modification', although the subtle difference here is that the decoration is purely accidental.
Does this sound familiar? Are there toys all over your house, paint on the walls and tissues everywhere? Let us know if you're suffering from toddler turmoil!
You can also read a tip on dealing with toddler tantrums, and a guide to lots of activities for children to keep you all busy.
Having quit the City to spend days knee-deep in nappies & Weetabix, Marissa is mum to R and baby No 2, born in April 2013. Living in Surrey, she blogs at Little Rascal Reviews on products, life & toddlers!