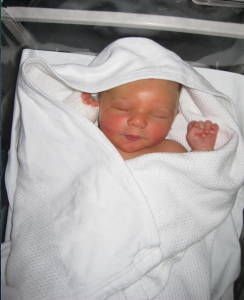 This month we're looking at midwives, and the type of care you receive when you're pregnant. Here's Marissa on what happened when the antenatal care she received wasn't what she was lead to believe she could expect:
When I discovered I was pregnant for the first time I had idyllic visions of one-to-one care and forging a strong relationship with my midwife right from my first appointment to the point where he or she passed me my baby for the first time *think something along the lines of Call the Midwife*
Sadly, my reality couldn't have been further from my quaint daydreams.
My prenatal appointments were all conducted by different staff, I'm not even sure I saw the same person twice during my entire pregnancy. All appointments were very factual and revolved around measurements and box ticking, rather than how I was feeling. It all felt rather depersonalised and medicalised.
Once labour started and I arrived at the hospital I saw a plethora of midwives (none of whom I'd met whilst pregnant) and due to changing shifts and a busy maternity ward, I was primarily cared for by four or five different midwives. Some of whom were friendly and caring, whilst others seemed to view me as an added annoyance to their overstretched schedule. I was particularly shocked when whilst in labour we called for someone to come (as hubby was given the rather daunting task of monitoring baby's vitals and calling for assistance if anything went too high), only to be met a while later with a "Sorry for the delay but the lady next door's baby just died". This is not quite what I expected to be told whilst desperately trying to remain as calm as possible! I was later taken for an emergency c-section which then involved an entire team of surgeons, anaesthesiologists, etc. which obviously couldn't be helped and I'm grateful they were all available when we needed them. However the whole experience was all a whirlwind and quite traumatic.
When I fell pregnant a second time, it was pretty much the same story with the prenatal appointments, never seeing the same person long enough to develop a rapport. Additionally, this time I was told I had to liaise with a VBAC (Vaginal Birth After Caesarean) Midwife, whom we later discovered was personally targeted with reducing the rate of c-sections taking place in our particular hospital. Please forgive my cynicism but this led me to believe that she was merely paying lip service to my misgivings about a natural birth and alarming growth scans as they didn't align with her targets.
Thankfully upon arrival at the hospital following my waters breaking, a consultant intervened and recommended I be sent immediately for an expedited c-section. I was then cared for by a dedicated midwife called Stuart, who was funny, caring and in whom I had absolute confidence. He stayed with me from admittance to the ward, until Baby L was born. Shortly afterwards, I was transferred onto the maternity ward where I had to be handed to the care of different nursing staff, which was disappointing as I'd just developed a relationship with him, albeit a brief one.
I hope that my experiences are exceptions rather than the norm and that parents are still able to feel an affinity to and reassured by the majority of their midwifery staff at what can be an overwhelming and stressful time. There's currently a trend for hiring private Doulas who will be with you throughout your pregnancy and birth and I have wondered if this has anything to do with a lack of personal relationships between mothers and midwives during pregnancy?
What was your experience with your midwife/midwives? Good, or not so great? Leave a comment and let us know.
Having quit the City to spend days knee-deep in nappies & Weetabix, Marissa is mum to R and baby No 2, born in April 2013.