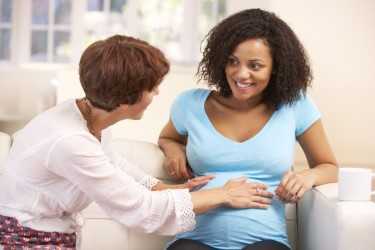 So far during Midwife Month on TalkMum we've looked at the different ways midwives can help you, and the level of antenatal care you can expect when you're having a baby. But what happens when you're expecting more than one? Here's Fran from The Parent Social on her care during her second pregnancy.
In my second pregnancy I found out I was expecting non-identical twins at six weeks when I went for an emergency scan after a bleed. There was no 'special treatment' for a multiple pregnancy at that point and I went for my 12 week scan as normal, although it obviously took longer than usual as more measurements were required and they had to confirm that they were indeed non-identical as well as checking the babies' positions. I had my booking in appointment soon after the scan; again as usual.
Then things did deviate. Because twin pregnancies can be more complicated than a singleton pregnancy, a consultant obstetrician oversees the antenatal care that you receive; and you have more appointments/check ups. Non-identical twins are more straightforward as they don't share a placenta. However, if you're expecting identical twins there will be even more appointments – with both the midwife and consultant - and checks due to the risk of TTTS.
At 14 weeks I had my first consultant appointment (although it wasn't actually the consultant that we saw). At this point nothing much was discussed and it was just the routine tests you'd have with the midwife.
I didn't enjoy the antenatal midwife experience first time around. I never saw the same midwife twice, on one occasion a midwife muddled my notes up with someone else's (it was only part way through the appointment when she called me by another name that I realised) and then there was another appointment where I'd been told I needed a certain test and she forgot. So second time around I was like a dog with a bone when I heard about a caseload midwife team – described as the gold standard of midwifery care – that worked in my very local area (this is not private by the way). As opposed to the traditional team of midwives, the caseload team for my area consisted of six midwives who looked after around 220 women each year. Caseload midwives tend to work in pairs to improve the continuity of care, and offer care before, during and after birth. They also visit you at home for your antenatal appointments and can do weekend appointments. I had to get myself on their roster; I was very persuasive and despite a record year for pregnancies in my area, I did.
The plan of care, as devised by the consultant, was that I would see him (the consultant) once a month and a midwife once a month from thereon in, meaning I saw someone every two weeks. As a worrier, I was really happy that I would be having additional checks. It varies from consultant to consultant, but mine wanted me to be induced at 38 weeks. 37 weeks is considered full-term for a twin pregnancy and past 38 weeks the risk of fetal death in even uncomplicated non-identical twin pregnancies increases. I didn't argue with this, but I think you can request not to be induced at this point, but you'll require daily checks.
I had my first midwife appointment at 16 weeks and was so happy with my midwife. She really seemed to understand me (and my concerns) and we immediately built a rapport. It was great having everything done in the comfort of my own home and with Matt being able to share in it due to the fact I was able to have weekend appointments. The relationship with my midwife continued to flourish with each appointment: it was in stark contrast to the previous time. The consultant carried out the same checks as the midwife at each appointment and reviewed her notes. My midwife knew me, and what was happening in my pregnancy, far better than the consultant.
I had the usual 20-week scan (where they also tried to ascertain, which was the 'lead twin'), but as it was multiple pregnancy had additional growth scans at 28 weeks, 32 weeks and 36 weeks. These were to check that both babies were growing at the same rate. They are also useful for checking the positioning, as there's more chance that one or both babies are not playing ball! I loved having those extra scans and finding out their weights as we went along. I found it so reassuring.
My midwife was brilliant, as well as doing the routine tests and checks, she always dug a bit deeper, looking at all my scan notes and everything the consultant had written. If there was anything I was concerned about she was the one that advised and got it sorted. It was a great midwife experience.
Did you - like Fran - have a twin pregnancy? If so, how was the standard of your antenatal care? Leave a comment and let us know.
Fran is a graduate, wife, mother of three girls and former PR manager for a global financial website.
She blogs about all things parenting on her site The Parent Social but also blogs about some of her other favourite subjects, which range from food, wine and dining to Italy, investing and football.