What's the stranged thing you can make out of old car tyres and corn on the cob? You might be surprised. Here's Cath's review of a range of recycled stationery tested by her and her sons.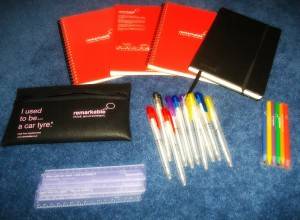 I have always loved stationery and can't resist pretty notebooks and coloured pens. Living in a house full of males means nobody shares my love of pretty stationery which can be good as it means no one ever borrows my pink notebooks and pens!
I was quite intrigued when I was asked to review recycled stationery from Memoetcas I really didn't know what to expect especially when I was told that the items were made from things like old car tyres and corn on the cob! I have seen pencils made from recycled plastic cups before but couldn't even imagine what a tyre or corn on the cob could be recycled into.
When the parcel arrived I'm not sure who was more excited, me or my sons when we investigated the contents, which I've listed below.
Pencil case made from a car tyre - this had a lovely smell, very much like a new car or new car showroom. I liked that on the front in purple writing is "I used to be….. a car tyre." The pencil case seems very tough so it should last longer than most pencil cases so is perfect for my son to use at school. Being black it appealed to both my sons.
Colouring pencils made from CD cases – there were six colouring pencils which were quickly snapped up by Luke who enjoys drawing and colouring. I'm not sure how an old CD case can be made into a coloured pencil but we were all impressed with them and they coloured well too.
Rulers made from corn on the cob – out of all the products these were the ones that amazed us the most as I had no idea that corn on the cob could be recycled.
Notebooks with a recycled leather cover – these were my favourite product as they smelled so nice. Being spiral bound they are so useful and they look smart too. I have put one in my handbag and it is perfect for shopping lists, for making notes in meetings and also for entertaining bored children as they can use it to draw in or play noughts and crosses. I have used recycled paper before but not for a long time and I was really impressed how much it has improved. It was really smooth and easy to write on and more importantly my fountain pen ink didn't soak into it which has always been the problem with recycled paper before.
Pens made from corn – these pens are no different from a normal pen but are much better for the environment as they are made from corn. They write well too.
My sons had fun trying out the stationery and using the felt tips that were kindly included in the package.
Cath is an accountant, blogger and proud mother of two sons aged 6 and 10. Cath's house is always full of children and as she lives on a farm they have plenty of space to play outside.
Cath knows her stuff when it comes to having children – as you can see by reading her personal blog here.