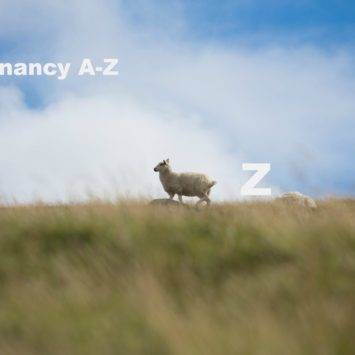 Thinking about trying for a baby this year, or are you already pregnant? Make sure you read our pregnancy and nutrition A-Z
If you are trying for a 2018 baby or have just found out that you're pregnant, there is a lot to take in. To try and break down all the information for you into easily digestible chunks, we're telling our Pregnancy A-Z - with information, tips and advice on the whole alphabet when it comes to pregnancy.
We are back with the final instalment in our A-Z. We've had everything from A - W, so now we're moving on to Z. So what does it stand for when it comes to pregnancy and nutrition?
Make sure you catch-up on our pregnancy alphabet so far:  A / B/ C / D/ E / F / G / H / I / J / M / P / S / T / U / V / W /Y
ZZzzzZZ: Or sleep! We've already talked about this, but it's a big one. Sleep - or lack of it - is a big problem during pregnancy, and sleep problems among pregnant women are incredibly common. Physical changes to your body can make you uncomfortable at night, and coupled with the increased need to wee, restless legs and noticeable baby kicks, might mean you're struggling to shut your eyes. Pregnancy anxiety might also be keeping you awake in the small hours. At a time when you're already physically tired out, it can all be exhausting. Make sure you read our posts on how to get a good night's sleep in pregnancy for some top tips on how to manage it all.
It's also important to make sure you sleep on your side during pregnancy and not your back; this reduces the risk of stillbirth in the later stages of pregnancy. Read more about this important advice over on the Tommy's website.
If you're considering co-sleeping with your baby once they are here, read about the guidelines of safe baby sleep.
This is the final post in our pregnancy A-Z - we hope you've found it useful! Make sure you also read our midwife's advice on pregnancy and birth and early signs of labour