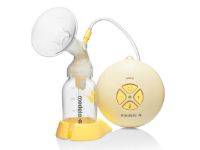 Going back to work doesn't mean you have to stop breastfeeding, as blogger Charlotte Taylor explains...
As World Breastfeeding Week continues, we're looking at the issue of breastfeeding as a working mum. One mum who went back to work and carried on breastfeeding is Charlotte Taylor who blogs at Write Like No-One's Watching. Here, she tells us 8 things you might not know.
I went back to work when my son William was just under nine-weeks-old. I'd been exclusively breastfeeding up to that point and I didn't want to stop. My little boy really enjoyed it and so did I. So I started expressing at work.
1. You have to notify your employer that you'll be expressing
Health and Safety Executive (HSE) states you should provide your employer with written notification that you are breastfeeding. They say it's advisable to do this before you return to work, so your employer can ensure you return to a healthy, safe and suitable environment.
I told my employer by email to keep things documented and professional. My employer was very flexible with me and it made everything a lot easier for me. There are lots of benefits to employers if they allow employees to express according to the NHS – including reduced time off as breastfed babies are generally healthier (according to the NHS, not me!)  increased staff morale and loyalty, and a subsequent higher rate of return to work, lower recruitment and training costs; and an extra incentive to offer potential employees. Don't be afraid to fight your corner!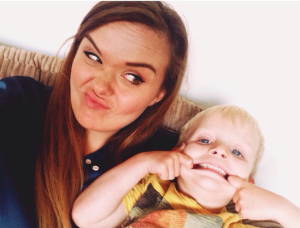 2. Your employer should provide you with a room to express in.
According to the HSE, your employer is not allowed to ask you to express milk in the toilets. I was given a nice room to express in and it's good to get comfortable and relaxed. Stick YouTube or iPlayer on and catch-up with some programmes you never have time to watch. Or look at photographs of your baby, it does help you to relax and to get your milk going.
3. It's a good idea to stick to a schedule
My schedule, between nine-weeks-old and six-months old went a bit like this:
Feed through the night when he needed it (I should warn you that some babies, when their mothers go back to work early, reverse cycle).
Feed him his breakfast (both boobs).
Express both boobs at around 11:00am-12:00pm, depending on how work goes – average around 10oz. His morning feed for the next day.
Express both boobs again at around 3:00pm – again 10oz. His afternoon feed for the next day.
Feed him when I get home from work – 5:30pm.
Feed him at bedtime – 7:00pm.
And sometimes at night!
Then when he was six months old, and eating solids, I fed him his first feed of the day, a feed at 5:15pm when I got home from work and a bedtime feed. He also had breakfast, lunch, dinner, water and snacks throughout the day.
4. You have to get your breasts used to a pump.
Sounds simple, but pumping is so different to breastfeeding. I started expressing when William was three weeks and at first I'd get a little at a time, sometimes not more than an ounce, but slowly, after every feed, I would express and encourage my breasts to make a little more milk. In the end, I would easily get around 5oz-7oz as well as exclusively breastfeeding. By the time I returned to work I had over 150oz in my freezer, ready for emergencies and in case expressing at work didn't work for me. This was like a comfort blanket to me and I would really recommend having a stash ready.
5. It's a good idea to invest in two breast pumps.
I had both the manual and electrical Tommee Tippee Closer To Nature pumps. Both of which I found simple enough to use. Two may sound excessive, but they came in useful for two reasons. Firstly - my electric pump broke and without my manual one I would have probably suffered with blocked ducts, a drop in supply and mastitis. Secondly – after my pump broke and was replaced, I realised that it was far quicker using the two simultaneously. It did take some balancing and a little hand-ache on the manual side of things, but it made things much easier for me.
6. You'll need to have your kit with you in a special 'expressing bag'
I just used a hemp Tesco bag-for-life but it was good to get everything ready in there, the night before work, just so you can grab it and go and you don't leave anything by accident. My kit consisted of:
My pump
Microwaveable Steriliser & Bottles – Again I used the Tommee Tippee Closer to Nature Kit and this worked perfectly for me. I would bring two 9oz bottles and usually fill them, if not more every day.
Breast Pads – I stupidly thought I wouldn't need them, but, while my breasts adjusted I would get let-downs throughout the day and there's nothing quite like the shame of a milky patch shared with your colleagues. I liked the Lansinoh, Tesco (best for quality and price) and Boots ones.
Milk Bags – I used both the Lansinoh ones (bought from Amazon) and the My Baby ones (which you can purchase here, or from Home Bargains for slightly cheaper). I always had these to hand in case I over-produced and I would also use them to store my stash in (whether that be in the fridge or freezer at home).
A Clean Muslin – Expressing can get a bit messy and these are as handy for your leaks as they are for your baby's!
Water – It's thirsty work!
Entertainment – I used to watch YouTube videos on my iPad to help pass the time (it's boring stuff!).
7. It's good to make sure your baby will take a bottle before you go back to work.
Introduce your baby to a bottle and make sure they happily take it from a range of people. I made sure William took a bottle of expressed milk every week from three weeks old (I waited until then to ensure there was no nipple confusion) until I went back, with a few extras the two weeks before I returned.
8. You should be proud of what you're doing!
Be proud, not ashamed. Your colleagues will be curious – being open with it is far easier than scurrying away with your head down. And also, don't feel guilty, you are a hard-working individual and if anyone raises an eyebrow, just point out toilet or smoking breaks. Or, you know, tell them they are idiots.
Read more from Charlotte on her blog and you can also read Breastfeeding tips from TalkMum bloggers and the benefits of breastfeeding.