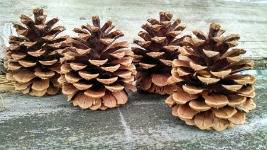 Celebrate the festive season with your little ones by getting crafty! Here, TalkMum blogger Fran from The Parent Social shares some tips...
My eldest daughter has just turned six and my twin girls are three, so as you can imagine, it's fever pitch excitement in our house, and has been for quite a few weeks, thanks in no small part to both nursery and school having their Christmas fayres in mid-November!
Because of this huge run up, we've been doing more Christmas arts and craft activities than ever before. The Christmas tree's only just gone up though, as this is something I don't like to do too early. So here's what we've been doing on the festive crafts front:
1. Paper chains
The twins' nursery fayre was a bit short on Christmas decs, so I got the girls to work on making paper chains with random coloured strips of drawing paper that we had in the art box. They loved doing it so much I bought this great festive paper chain kitfrom John Lewis. Lovely quality, thick paper; dotted lines to show where to cut and little sticky dots to hold the links together. Oh and includes a penguin design. Enough said.
2. Angels
There are quite a few variations on the 'paper plate' angel; this is by far the simplest.
Take one white paper plate, cut out a V-shaped section, which is just under a quarter of the plate and attach at the bottom so it looks like this: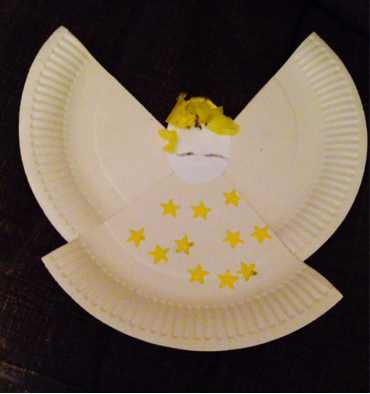 Decorate. This a three-year-old's work-in-progress. The glitter hasn't been added yet! Not quite sure what's going on with the facial expression on this one.
3. Glitter pine cones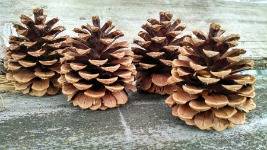 This has to be one of the easiest (and cheapest) craft activities ever. Forage for a few pinecones, daub with PVA glue and dunk in glitter. Then simply attach a sparkly pipe cleaner and voila a Christmas tree decoration.
NB our Christmas tree has got progressively less tasteful as the years have gone by, but it's a lot more fun.
4. Remembrance bauble
My eldest daughter goes to an after school club that's run by one of our local churches. The other week we were asked to email over a picture of someone that our family would like to remember. A week later the children (with some help I'm guessing) had made them into a bauble. These will be going onto one of the trees that will be put up in the church. I thought that it was a really lovely idea.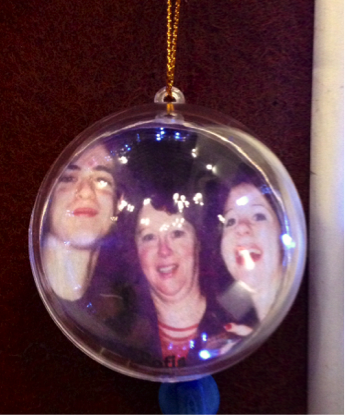 Obviously it doesn't have to be a photo, your toddler (or older child) can get creative with the crayons!
A quick Google has thrown up a pack of four create your own baubles for £9.99, but eBay has quite a few options also.
5. Usborne – Christmas Decorations to Cut, Fold & Stick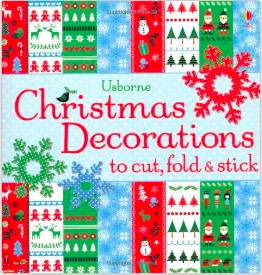 My daughter was bought this wonderful book as a birthday present. She absolutely adores it. This is definitely one for older children, but as a guide, she has just turned six and can do it completely independently. I will be buying another one next year!
6. The festive fayre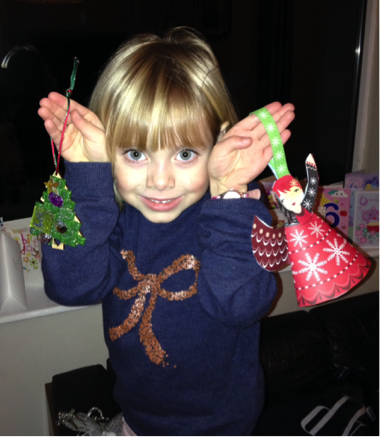 There's usually a DIY craft stand at Christmas fayres and the one we just visited was no exception. £2.50 for a plain flat wooden decoration that the kids could customise with glitter and all manner of gems and sparkles. Sofia (seen here showcasing her effort along with an angel made from the aforementioned book) certainly got her money's worth. There's probably about £5 of haberdashery items on there. 
7. Festive stickers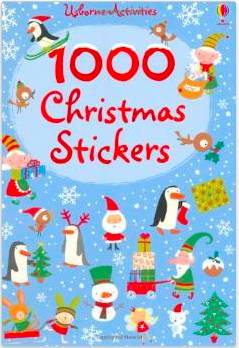 What child doesn't love stickers, but ones with a reindeer with a red nose, a jolly fat guy in a red suit and snowmen…? It's a no-brainer. Customise anything or just simply stick onto paper to create a picture. Easy peasy.
8. Personalised Christmas cards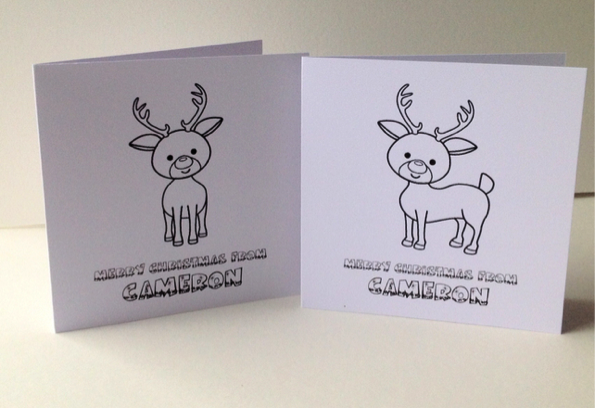 My Mother-in-Law bought each of the girls Lets Colour In' Kids Personalised Xmas Cards. They come as a pack of five, have each of their names on the front, and as the name suggests, they need colouring in. They are a bargain at £1.80 a pack.
Do you have any more Christmas craft ideas?