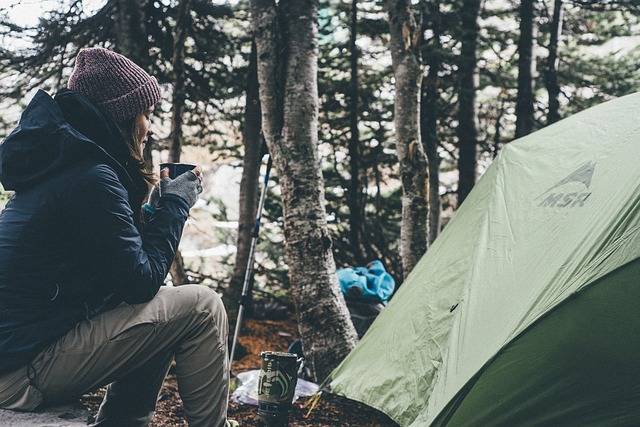 Blogger Rachel from Make A Long Story Short isn't a natural camper but she puts her love of a comfy bed to one side once a year. Here are her top tips...
Summer is here! And I have had to come to terms with several things since having little boys. One, you must never, EVER forget to put suncream on the back of the neck and behind the ears (oops). And two, you can fight it all you want, but their best ever holiday will always be in a tent.
I am not a natural camper. I don't believe in choosing not to sleep in a bed, I can't function in the morning without a hot shower, and frightening things happen to my hair without a hairdryer. But in the spirit of seeing my kids have the time of their little lives under canvas, I've given in. A few years ago, we started a little family tradition of camping in Dorset. It's the only time in the whole year that we get uninterrupted time with just the four of us, and it's honestly the most magical, atmospheric, happy-making few days of our year.
So here are my top tips for the unnatural-camper-plus-kids:
If it matters to you, find a campsite with showers and a plug socket. There are lots. I no longer feel guilty about needing this, and you shouldn't either: you are you, right, and you are good at lots of things, and roughing it doesn't have to be one of them. If totally forgetting about hair, makeup and soap for a week sounds like wonderful liberation to you, then look for something a bit wilder. You'll have a happy family holiday, first and foremost, when you are happy. You set the tone. So make sure you are.
Do not arrive after dark. If you do, you may find that your small children wake up in pitch blackness and start screaming while you're trying to put up a tent in a gale by headlight. You'll run back to the car and forget you've wound up the windows, and smash your face straight into the glass, and fall back half-stunned into wet grass with an almost-broken nose. You will wonder whether you can pull off Dumbledore chic, and know in your heart of hearts that you cannot. Anyway. I hear this can happen.
Pack a gas stove and saucepan. Even if you're planning on buying food most of the time, waking up in a tent is ten-times more doable with a hot drink in your hand. I can do anything once I've had something hot in the morning. Even wrestle babies through communal showers. We also do big batches of porridge for breakfast, which wakes the boys up and gives us enough energy after a night on an airbed.
Be flexible with your schedule. I've been guilty of over-planning our holidays, and with toddlers it always goes down the spout. We've all been happiest when we've had a loose plan, and decided on the day after looking at the weather. If they're having the time of their lives jumping into the same sandy puddle for an hour, let them. If you need to call a halt to have a cold drink and a nap (in pushchairs or cars), do it. Bring a book so you can sit for a while. Save something for the next day. There's no law that says you have to cram every minute full of incident. Instagram won't notice, I promise.
Bring at least one pack of wipes per person. Ah, wipes. The miracle cure for everything. Carry some nappy sacks with you (even if your kids are beyond nappies) for the used ones, particularly those used in emergency loo breaks.
Other essentials we cannot do without: several good torches, a lantern, a pushchair and a back carrier/baby carrier, wellies for everyone always, ziplock bags for taking toiletries down to the showers, sweetie bribes, tea towels in abundance, teaspoons (for picnic yogurts), car chargers for telephones, umbrellas (obviously), and of course that blasted suncream.
Things that are nice to have and make things easier: a foldaway picnic blanket with a handle, camping chairs, something to use as a table, duvet and pillows instead of sleeping bags (I am ALL FOR THIS; the boys sleep better with familiar smells around them), fuzzy blankets for the evenings, board games if your family is in that zone (we're not yet), and an indecent number of biscuits.
Happy camping! Wishing you uncharacteristic sunshine and many bacon sandwiches.
Now read how to survive a long car journey with a baby and top tips on flying with a toddler.