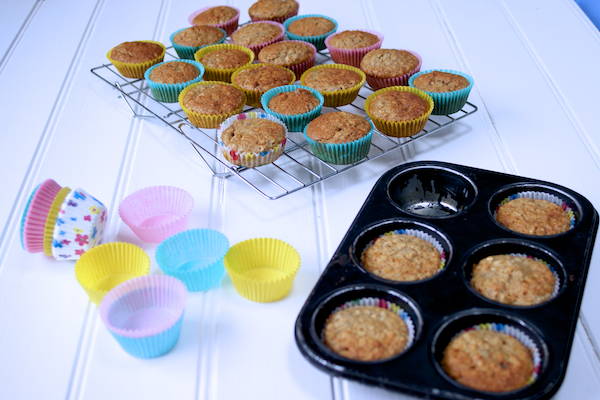 Fill the cool bag with this lot, jump in the car and head off for a family picnic this month....
Toddlers can be fussy eaters at the best of times, changing their mind about what they will eat and what they will refuse. And often what was a sure-fire guaranteed fun day out pre-kids - a brilliant picnic somewhere pretty - can end up being a battle to convince your little ones to eat. So we have scoured the web for food bloggers' top recipes and ideas for kids' picnics. All you have to do is find lids that fit your plastic sandwich boxes (good luck with that) and head off somewhere fun for the day.
FUN FRUIT SKEWERS
We love these fruit skewers from blogger Grace from Eats Amazing. Colourful, healthy and you can even get your little ones to help you make them. Just be sure to keep a watchful eye on them, when they are holding the sharp ended skewer.
BANANA AND OAT MUFFINS
Katie from Feeding Boys and a Firefighter has made some delicious looking banana and oat muffins, along with some other great toddler-friendly food on her blog.
BERRY FIZZ
This teeth-friendly fruity drink from Emily at A Mummy Too is bound to go down well with small people - make up a batch of it and transport it in a large Thermos flask or plastic bottle.
HOUMOUS WITH PEANUT BUTTER
Yes, really! Camilla from Fab Food 4 All has a recipe for houmous made with peanut butter. So if your kids love humous with pitta bread, try this.
CRUNCHY CRACKER CRUST TURKEY NUGGETS
A healthier alternative to chicken nuggets from My Fussy Eater's Ciara, these turkey nuggets can be made and cooled before packing them up for your picnic. Ketchup optional!
If you're looking for inspiration on places to go for your picnic, we love this blog post from Lori at Wild & Grizzly on their family picnic at Bristol Harbourside and TalkMum blogger Gill has written a fab round up of the best parks in south east London. Meanwhile, if you've got a baby who's not yet eating solids, pack a little picnic for yourself and head somewhere picturesque. TalkMum blogger Eleanor from A Bristol Parent has a great guide to places in Bristol that you can breastfeed with a view.
What are your favourite toddler picnic ideas? Now read 5 brilliant days out for you and your baby and How to survive a long car journey with your baby.