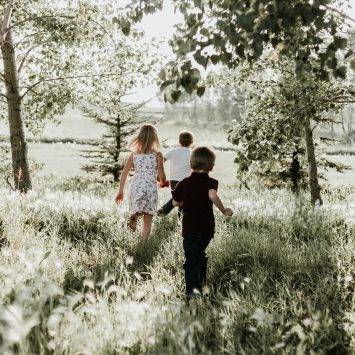 Looking for free things to do during the summer holidays with your children? We round up our favourite ten activities that cost absolutely nothing at all
We know the summer holidays can be fun, but for parents, they can also be expensive. And while you want to find activities to occupy everyone, it can be hard to constantly come up with fresh ideas for things to do that will make everyone happy.
So help keep your holidays on the right track, we're rounding up ten free things to do during the summer holidays with your children. Here are our ten tops for activity inspiration.
10 free things to do during the summer holidays
Mischief Makers, the summer reading challenge: Who remembers taking part in a summer reading challenge when they were younger? There's now a national scheme that takes place in libraries across the UK each summer. Mischief Makers is free to sign up to, and for each book your child reads and chats about with the librarian, they will receive a sticker which helps them solve a series of clues. Once they've read a set number of books and answered the clues, they will receive a certificate. This years challenge has extra nostalgic points for parents due to the brilliant Beano theme.
Take a Highway Rat trail: Julia Donaldson's book The Highway Rat is the latest of her stories to be brought to life by the Forestry Commission. Follow the story, spot characters and complete activities in forests across the UK. It's a great outdoor activity and it costs nothing to do. 
Spend a morning at a museum: From the Museum of Childhood in Bethnol Green through to Leeds National Art Gallery, there are hundreds of free museums and art galleries throughout the UK and most of them cater to children, too, with a whole host of special activities and events. Read this list of the best museums for children for inspiration.
Go to the park: It's a simple activity, but in terms of free things to do during the summer holidays, everyone loves it. Take a picnic to make a day out of it. Here's a guide to London parks and Bristol parks.
Take a free swim safe session: Swim Safe is a series of free, outdoor swimming sessions run by the RLNI for children aged 7-14. The sessions are designed to teach children about the importance of water safety, and take place at open water locations such as the beach, lakes and rivers. Here's the SwimSafe website with more details on how you can sign up.
Visit a city farm: Get a taste of country life in the city. While big zoos are likely to have an entry fee, smaller city farms are free and still fun, too. If you're in the capital then visit a London city farm, but there are farms at cities across the UK - visit a Nottingham farm and a Swansea farm for starters.
Go to Notting Hill Carnival's Family Day: While the Monday of the Notting Hill Carnival is usually the party day, Sunday is traditionally 'Family Day', where lots of people take children and it's likely to be a little less crowded. Arrive early though, go to a less crowded spot and take snacks and lots of water.
Find the buzz on Manchester's Bee in the City trail: 230 giant, eye-catching sculptures of bees have been dotted around the city's key landmarks. How many can you find? Here's a map.
Take part in Parkrun: Parkruns are the free, weekly runs that take place across the UK. Adults run 5k but there's usually a separate, children's 2k run taking place too. If you want your time logged you have to register on the website, otherwise it's fine to just turn up nd warm-up.
Do nothing: Wait, what? While it might sound weird, apparently the gift of boredom is a wonderful thing to give your children, and having some simple time around the house with nothing planned will mean they can let their imaginations run wild. And best of all, it's completely free. Just get a lot of snacks in.
We hope you found our list of ten free things to do during the summer holidays useful! Make sure you also read our post on toddler picnic tips and how to keep your family cool in a heatwave