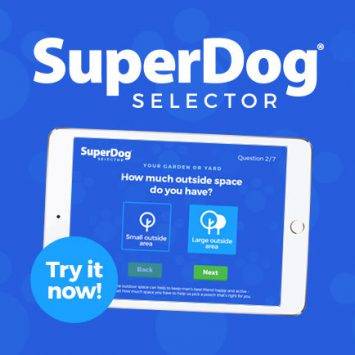 Hours of scrolling through hundreds of dog breeds and crossbreeds can leave you feeling exhausted and no closer to deciding on which dog is right for you. Alternatively, you may already think you know what your dream dog breed is, but have you considered all the factors related to that particular dog breed?
After all, bringing a new dog into your life is a huge and life-changing commitment, so you want to make sure you've made the right choice. Luckily for you, in connection with our SuperDog vitamins for dogs line, we've just launched the SuperDogSelector tool.
How does the SuperDogSelector work?
Before bringing a new dog home you'll need to assess how it will fit in with your personality, lifestyle, and needs. The SuperDogSelector narrows down your search by asking you 10 simple yet key questions that you should consider before deciding which dog breed is right for you. Whether you suffer from allergies, live in a large country house or an apartment in the city, are an experienced dog owner or a first timer, the SuperDogSelector will help you find the perfect dog for you!
SuperDogSelector Breed Guides
Once you've answered the SuperDogSelector questions and found out which the best breed for you is, you can read our helpful guides to give you even more information on each breed group.
The SuperDogSelector breed guides provide you with useful information on your chosen breed group including the different traits and personalities of that particular breed, FAQs about them and all the facts you need to be able to make an informed decision on getting a dog.
Try the SuperDogSelector today and share your perfect dog breed in the comments below!

Please Note: The SuperDogSelector is only intended to be used as a guide to help you choose a breed to fit your lifestyle. We would strongly recommend that you conduct thorough research into your preferred dog breed before making the final decision.