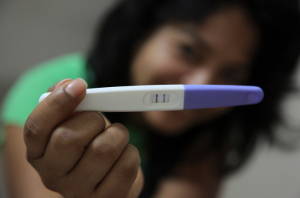 When you see those two little lines appear on a pregnancy test - it can evoke a range of emotions for lots of different reasons...
This month on TalkMum we're discussing conception and fertility. We'll be talking about ways to help you get pregnant, how to cope when it doesn't happen straight away and much more. But before all of that, we wanted to ask our TalkMum bloggers what ran through their mind when they discovered they were pregnant. It can be such an exciting time, but it can also be scary or a shock! Here's what they had to say...
"With my first daughter, Izzy, I was very much in the this can't be happening to me camp. I remember thinking: Argghhhhhhhh. With Chloe I didn't really believe it and I was excited but very nervous." Becky, Munchies and Munchkins.
"With my first pregnancy, it was a shock and a bit unexpected. I had literally only been married a few months and within a month of hubby arriving in the UK, I fell pregnant. I hadn't planned to get pregnant so I initially didn't think I was until I was almost two months. I was worried, we were still living at my parents and I worried that I would not be able to cope and not be a good mum. With my second, we had been trying for four years so it had got to the stage I was doing the tests and not actually expecting to be pregnant. When I saw the line, it was shock again, an extremely happy shock, but I was wary in case it was wrong because it was a very faint line. So I went out and bought another test - a more expensive one. We were overjoyed when this one confirmed it!" Fozia, Muslim Mummy.
"I'd been doing sums in my head for a week or so, trying to work out if my period was late or not. After a few more days of no period, I chatted to my husband over dinner about my suspicions. The following morning - a Saturday - we got up early and excitedly marched to the supermarket to buy a test. It was positive! I felt shocked - we'd only been trying for three months - but excited. And a bit scared! I knew our lives were about to change... forever." Alison, Not Another Mummy Blog.
"I'd been off the Pill for a few weeks and suddenly came down with a really heavy cold. I started taking something for it and glanced at the enclosed leaflet, which said not to take if pregnant. I didn't think for a moment I was, but I needed to rule it out before I took the second dose. I was absolutely stunned (and elated!) when a digital 'pregnant' flashed up. About a million and one things ran through my mind, but the first was that I needed to tell my husband; I hadn't even said I was taking the test as I was so sure I wasn't pregnant. I then took a further four tests as I was so convinced it couldn't be true." Fran, The Parent Social.
"My first thought was 'I don't understand!'. I had done the cheap chemist own-brand test two hours previously, and it had come up negative, so I'd thrown it away. We had people coming to view our house, so I went to the bathroom to empty the bin, and as I did so, the test fell out. When I picked it up, it was positive. The chemist saw me a further three times that day as I couldn't stop buying tests. They were all positive." Eleanor, The Bristol Parent.
If you're pregnant, or a mum, how did you feel when you discovered you were expecting?
Image by Esparta, via Flickr Creative Commons.
Save