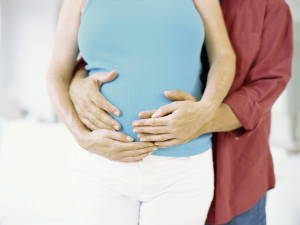 In our next post for midwife month, here's Laura from Chez Mummy on yesterday's release of the the NICE draft guidelines around childbirth:
"NHS push for midwives," screamed the front page of the Daily Mail yesterday. "Call the midwife," shouted Channel 4 News. "NHS watchdog wants more home births."
Draft guidelines which were released yesterday by the National Institute for Health and Care Excellence (NICE) say home birth is just as safe as hospital for 'low risk' pregnant women who are having their second, third, fourth (and so on) baby.
But just because NICE says it's safe, would you choose to have a home birth?
I work in PR and was actually involved with the media work for this story yesterday. It was interesting to see twitter buzzing about this issue; lots of opinions were flying this way and that - some women who were hoping for a home birth, others who couldn't understand why anyone might want to 'put their baby at risk in this way' (I'm paraphrasing), other women who had experienced a home birth and supported the choice to be offered one.
Fi Star-Stone, who provides an advice and support service for parents, gave birth to her two children at home. Writing on her blog, Childcare is Fun, she says "they were both amazing births. I am so pleased that I had such positive experiences," but acknowledges that it won't be right for everyone.
And that's true. For me, a home birth was never on the cards for either of my pregnancies.
When I was pregnant with my first child the options I were given were a midwife-led unit at my local hospital or a more 'traditional' (medical) labour room. The midwife-led unit was amazing; it looked completely different to the rest of the hospital, its decor and furnishings reminding me more of a budget hotel. I was lucky enough to give birth there and had no complaints.
My baby girl arrived quickly, very quickly, and was healthy. But complications arose when delivering the placenta - I nearly needed an emergency c-section because of them - and I suffered a haemorrhage. While I didn't lose buckets of blood, I did lose enough to warrant a transfusion.
Second time around, my previous experience made me 'high risk'. This meant that even a midwife-led unit was out of the question. Given what happened last time though, I was happy to be in hospital just in case. I gave birth in a typical hospital obstetric unit, confined to the bed and with machines bleeping around me. Thankfully, my son's birth was straightforward and uncomplicated.
Would I opt for a home birth if I had a third child? Hand on heart, probably not. That's not because I'm against it - far from it - but rather that my first experience of childbirth has had a lasting impact on me and I have a nagging fear that a haemorrhage could well happen again. But, if I had had a straightforward 'normal' first birth would I have considered the possibility of a home birth for my son? Possibly yes.
Even though my first labour didn't quite go according to plan, I was happy with my decision to use a midwife-led unit. If there had been no concerns over my second labour, I would have been there again in a heartbeat. The draft NICE guidelines say that they are just as safe as obstetric units for all pregnant women at low risk of complications and can result in a 'better birth experience' and when you look at the stats that does seem to be true.
Mind you, I was really grateful to be in hospital surrounded by midwives and doctors second time around. It was a 'better safe than sorry' attitude considering what I had already been through and I don't regret my decision in the slightest.
So, back to you - would you choose a home birth? If you would, or you have, then good for you. If you wouldn't - good for you too. Deciding where you want to give birth to your baby is a hugely personal choice and what might be right for one will not necessarily be right for another. What's important is that we are given the best information possible to inform our own decisions and be supported without judgement in the choices we make.
As TV presenter, Davina McCall so eloquently put it:
So, I think we all agree? Give women choice! So they can give birth wherever they want so they feel safe, strong and in control.

— Davina McCall (@ThisisDavina) May 13, 2014
Laura is a full-time working mother to two fabulous but sometimes fiendishly cheeky young children. When's she's not chasing her brood around the house or wiping chocolate off the furniture, Laura works in PR and also as a freelance journalist. She pens the award-nominated parenting blog, Chez Mummy and in 2012 founded Working Parents United, a website to support working mothers and fathers across the UK.