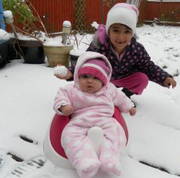 Here's TalkMum blogger Fozia, who writes Muslim Mummy, talking all about her writing inspiration and other blogs she enjoys to read.
Hi Fozia, tell us about your blog:
My blog is called
Muslim Mummy
and can be found at
www.muslimmummies.com
.
It is now 3 years old and I generally write about parenting my two girls. Although after the birth of my second child I have struggled slightly to keep up with it. However, I am hoping to change that this year and expand it a bit by trying my hand at cooking and crafts.
Why did you start your blog?
I first started a different blog about my job as I worked in a prison; my friend was fascinated by it and suggested I write about my experiences. However I hated that job and then blogging about it wasn't making me happy; there were also issues about confidentially and had to be extremely careful. I then came across a few blogs by fellow mums and thought this is a good way to keep a record of my daughters life and also link up with other mums.
What's your favourite and / or most popular posts?
My favourite posts have to be those about my daughters, their birth stories and their achievements.
What's the best thing about blogging? And have you ever experienced any negativity?
For me, the best thing about blogging is 'meeting' other like minded parents. In some of my posts where I have written I am struggling about being a parent, I was overwhelmed by the support from others and realised I was not alone in feeling like I was. I have been lucky in that I have never experienced any negativity so far.
Which other blogs do you read?
Other parenting blogs by fellow mums.