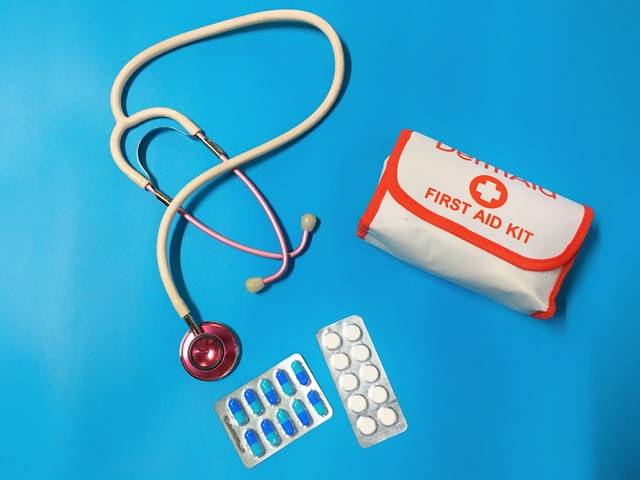 TalkMum blogger Katrina with some brilliant tips on what to pack in a family first aid kit, when you're heading off on holiday...
'What to paaaaaack?! I've got too.much.stuff'- Sound like a familiar scenario to you? It's a dilemma we're all faced with when preparing to go away on holiday - be it a staycation in style, or gallivanting abroad. There is always a temptation to over pack, taking everything and the kitchen sink with you (metaphorically speaking, obviously). I guess this attitude is partly because we're always taught to be as prepared as possible, for all eventualities. Once you have children, this mentality goes into overdrive. We've probably all experienced being caught short on at least on occasion (err, anyone else had to craft a makeshift nappy from a muslin square? No? Just me….) so when we're out of our comfort zone, miles away from home, it's enough to turn us all into compulsive over-packers.
Without a shadow of a doubt, one of the most important items to carry with on your travels is a family first aid kit. You may be tempted to stuff it full of all kinds of exotic sounding lotions and potions, but according to experts the key is to streamline and pack just the essentials, in just five simple steps: S.O.A.P.P.
S: Sun Protection
This includes sunscreen or sunblock (whatever your preference, it's advisable to use a product which contains protection against both UVA & UVB rays). For eye protection, if you opt for sunglasses, these should be CE and British standard marked. Hats are especially important for children, but great for adults too: a wide brimmed hat will cover the face, neck & ears. And let's not forget, a great addition to any sun protection ensemble are UV swimsuits (not reserved just for the kiddos either - you'll find surf companies are big on these for adults too.)
O: Oral Rehydration Solutions
Fluid replacement is used to prevent or treat dehydration. Obviously, the best practice is to maintain your fluid intake whilst out in the sunshine, but often on holidays dehydration is commonly caused by diarrhoea and vomiting (frequently the result of contaminated food, bugs, germs & dirty water). Carrying a stash of rehydration sachets to replace essential body water & salts lost, is prudent. NB. Antidiarrheal Medicines will help in reducing bowel movements, but it is vital to replace fluid loss with rehydration.
A: Anti-Allergy
Pack a broad-spectrum anti-allergy medication; plenty are available over the counter and suitable from children through to adults (ask your pharmacist for advice). Antihistamines can help to temporarily relieve allergic reactions/ symptoms including those caused by pesky insect bites & heat rash.
P: Pain & Fever Control
Paracetamol and ibuprofen- again, these medications are available in a variety of strengths so check with your pharmacist before purchasing. They're essential in controlling fever and pain: it's much safer to obtain these before you travel & understand the dosage (translating the instructions from a foreign language? Not so much fun)
P: Plasters & Bandages
It's not just the little ones who have accidents- so always keep a supply of these close by.
TOP TIP:
Put together a couple of kits, including these basic first aid essentials and keep one close by at home, and the other in your vehicle. Handy extras include: antiseptic wipes, scissors & non-porous tape. Then, when it comes to travelling abroad, it's less daunting putting one together from scratch & simply a case of checking all the use-by dates on your existing kits.
Always check with your GP or pharmacist before buying medication and it's wise to research your destination, and if needed take other more specific medications- if you're in a mosquito hotspot, don't forget your repellent (citronella oil based ones are often far more effective than DEET) and investigate if you need malaria tablets etc. Happy travels!
Now read our tips on saving money on holiday