If you're pregnant, you might be unsure what to do about exercise. Do you carry on as normal, adapt your routine, stop altogether...? There's endless sources of advice out there. So today we have a special guest post from Katy Tuncer, founder of Ready Steady Mums: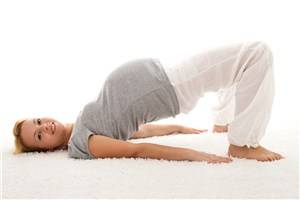 Most pregnant ladies reduce or stop exercising as they are unsure how to exercise safely in pregnancy. Some wonder how exercise can work for pregnant ladies with different levels of fitness. My experience is that most pregnant women fit into one of two groups.
1. The "Fit, but now what?" group: Before you were pregnant you used to exercise a lot, and you'd like to know how much and what type of exercise to carry on with.
2. The "How can I be fitter?" group: You haven't really done as much exercise as you think you should have in the past. Now you want to get active safely, and do the best thing for your growing baby and pregnant body.
In general and for either group, gentle to moderate activity works, and listen to your body. Swimming and walking have no complications and you can do right up to birth. If you have a particular fitness regime continue as you did before if you feel comfortable as long as is not contact, impact or dangerous sports. You may feel as your bump grows you will reduce how hard you push yourself, so listen to your body.
Here are Ready Steady Mums seven Tips to Pregnancy Exercise:
Do regular pelvic floor exercises
Go for regular walks, keep a neutral pelvis to protect your lower back
Exercise safely – Experts recommend modified Yoga, Pilates and Strength & Tone exercises
Don't do sit ups, they can damage your tummy muscles, and slow recovery post-pregnancy
Be gentle with your joints, your body produces a joint-loosening hormone in preparation for birth.
Ask your doctor or midwife about risks specific to you and your pregnancy.
Listen to your body, reduce the intensity as your bump grows.
Remember exercising should be fun and can be a great way of having a bit of time to yourself before the baby arrives. Go with your gut and any pains or unusual feelings then speak to your midwife straight away, you may be doing too much.
How have you adapted your exercise routine for pregnancy?
Katy Tuncer founded Ready Steady Mums, a unique new pre and postnatal exercise movement. It is both community-based and on-line. Katy is bringing this effective, safe and free service to mums all around the UK. Ex-McKinsey, Katy is also a leadership coach and a Trustee for small charity (HERA) providing entrepreneurship and mentoring for trafficked women. Previously, she has co-founded a successful sports consultancy (Portas Consulting); led the Planning, Performance and Risk Department at the Metropolitan Police; commanded a Troop in the Royal Signals; and proudly still holds the varsity 400m hurdles record for Cambridge University.
If you would like more information regarding Ready Steady Mums and like to grab a copy of the 'Proper Exercise in Pregnancy DVD' click here.