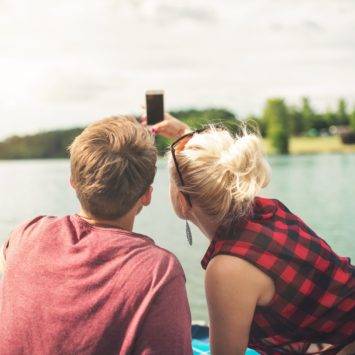 Deciding to try for a baby is a big decision to take in your life and a really exciting one, too. But did you know that if you're thinking about trying to conceive (TTC) then there are a couple of important changes to make before you get pregnant?
This month we're looking at ways to spring clean your life. If one of your aims is to start trying for a baby this year, then there are a few changes to your lifestyle you need to consider taking ahead of starting trying.
If trying to fall pregnant is on your radar, take note - here's five changes to make before you get pregnant:
Know The Right Time To Take Folic Acid: 
Most women are aware of how important it is to take folic acid in pregnancy; the beneficial effect is obtained with a supplemental folic acid daily intake of 400μg for at least one month before and up to three months after conception. But, did you know it can be beneficial to take it at least three months before you start trying to conceive to safeguard nutritional stores and continuing beyond week 12 of pregnancy since folate contributes to maternal tissue growth? Research also shows taking vitamin B12 alongside folic acid, is more effective in preventing neural tube defects than taking folic acid alone.*
Taking a supplement such as Pregnacare Conception which is specially formulated for before conception, will provide you with 400mcg folic acid – the exact level recommended by the UK Department of Health. It also provides 20mcg vitamin B12 plus other nutrients such as L-arginine, zinc, iodine and the recommended 10mcg vitamin D, which help support the nutritional requirements of women trying to conceive.
Come Off Hormonal Contraception: 
When you are doing everything you can to not fall pregnant, taking the pill becomes second nature. But you might not be fertile the day after you pop the last pill - for some women it takes longer than you'd think for your cycles to return to normal, so make sure you factor this into your plans. If you've been taking hormonal contraception for a long time then you may be low on certain vitamins and minerals (especially the B-group vitamins). So it's important to give your body time to recover.
Start To Eat More Healthily: 
If you have a busy work and social life it's easy to fall into bad habits with food, meaning your diet leaves a lot to be desired. Start upping your intake of fruit and leafy veg as soon as possible. We have some good tips about food to eat when trying to get pregnant (which fans of avocado toast should be pleased to read!)
Make Sure You Drink Enough (Of The Right Stuff):
Staying hydrated is really important when you're trying for a baby, as it helps with the quality of your all-important cervical fluid. So get into the habit of drinking water now, then it will become second nature. Aim for around 8 cups of water a day if you can; keep a water bottle with you. And boring as it may sound, stay off the booze - Department of Health advice is to avoid alcohol completely if trying to conceive or during pregnancy. Try and cut down on caffeine, too – it's thought to restrict the growth of a developing baby by constricting blood vessels and reducing blood flow to the uterus.
Think About Your Partner: 
As the saying goes, it takes two to tango – which is never truer than when you're TTC! So make sure you consider your partner's health and wellbeing too. Pregnacare His and Her Conception (available here) is a dual pack that also contains Wellman Conception for your partner which includes zinc which helps contribute to normal fertility and the maintenance of normal testosterone levels in the blood.
* Addition of Vitamin B12 to folic acid supplements to optimise the prevention of Spina Bifida and other Neural Tube Defects, Professor John M. Scott, Biomedical Sciences Institute, Trinity College, Dublin 2, Ireland
Read More: Why Folic Acid Is Important Before And During Pregnancy