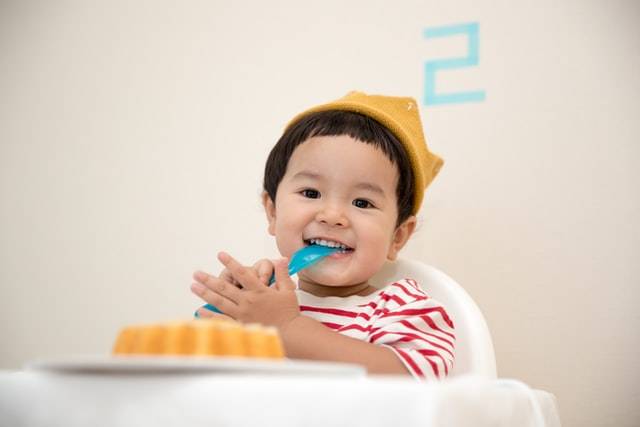 Blogger Fran from The Parent Social has picked up a few things about weaning and feeding toddlers.
I have three good eaters, and weaning was pretty successful from what I can tell (it seemed relatively stress free compared with what many friends reported). However, that isn't to say it's been constant plain sailing; I have been thrown quite a few curveballs. This is something I've discussed over on The Parent Social in my Common weaning and feeding problems and ways to resolve them post. Also, first time around, I did spend quite a lot of time on various websites looking up what babies could and could not eat at certain ages. I became rather more gung-ho second time around!
So based on all of that, here's my random list of some of the things that I've learnt:
Babies can eat cooked prawns from six months old. I still make this prawn stew (minus the harissa). It's very quick and easy and they all love it.
Due to the risk of botulism, don't give your child honey until they are a year old.
You can give your six-month-old eggs in any way, shape or form as long as they are well cooked.
From one year of age your child can eat brie, camembert and other mould-ripened soft cheeses (made with pasteurised milk)
From six months old, babies can have cow's milk added to their food.
From the age of one they can have full fat milk as a main drink.
Raw kidney beans are poisonous. I had it in my mind that they were and then one of my twins got hold of one at a play centre and popped it into her mouth. A quick call to NHS 111 confirmed that they are indeed poisonous. All was fine though.
It's tough, but if your child isn't eating much try to think in terms of what they've eaten in a week as opposed to during one meal or even during a whole day.
None of my three girls have been particularly partial to bland food and have much preferred more flavour. Even at the start of weaning I used to pep stuff up with a few herbs and spices. I'm talking about something aromatic as opposed to the cayenne. I introduced my twins to chili con carne, which included 1tsp of mild chili powder at around 9-10 months. I still use this recipe from Netmums. I make it for the kids first and then add some hot chili powder for my husband and I.
You can give pureed meat, chicken or fish from six months (I started with milder-tasting fish and chicken before quickly moving on to red meats).
You can give finger foods from six months. Large pieces/slices/chunks of steamed veggies and fruits are ideal, as are sticks of cheese, grissini/bread sticks or even well-cooked omelet.
The goalposts have shifted quite a bit with regards to children eating nuts. Unless there are nut allergies or allergies such as eczema, hayfever or asthma in the family, then babies can have nuts before one (obviously

not whole nuts

due to the choking hazard). Also (again if no allergies), women can now have nuts in pregnancy.
Frozen vegetables – the secret weapon: just as much goodness as fresh (many sources say they have more), cheaper, more convenient and ready really quickly. Peas, sweetcorn and broccoli are my staples. Stock up the freezer!
A box of raisins can defuse many situations. If you have a child under four carry some at all times!
A homemade ragu (aka Bolognese sauce) seems to be loved by pretty much every child I've ever known and is a great way to incorporate some veg into their diet if they're not too keen on their veg 'straight up'. A traditional ragu does involve a bit of chopping, but is VERY easy to make, freezes well and doesn't need sugar or salt (like the jar equivalents) to taste good. The same can be said for homemade, mild curries.
What tips do you have, that you can add to Fran's list? Comment below or tweet us at @Talkmum!