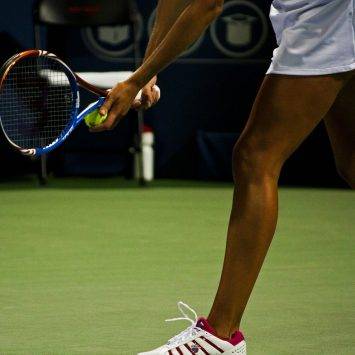 Wimbledon's female tennis players are a force to be reckoned with, and showcase fitness and technical skills at the highest level. If the women of Wimbledon have inspired you to take up tennis, take a look at our guide to the fitness and nutrition tips of your favourite players, and how you can get on top form and ace your game.
The players
With new players emerging each year, it can be hard to keep track of the key tennis pros to be keeping your eye on during the tournament. Take a look at some of the names to look out for this Wimbledon season.
The Willams' sisters
Serena and Venus Williams were coached from an early age by their parents, and have gone on to both hold the title of number 1 ranked tennis player in the world. The Willams' sisters follow a mainly raw and vegan diet during tennis season, which helps them to stay at peak performance during gruelling matches. Training sessions are also intense and include a number of non-tennis activities too to help their all-round fitness goals.
Maria Sharapova
Sharapova is an Olympic medallist and tennis world champion, who has competed on the world stage since 2001. Despite a controversy-filled few years, Sharapova has a long and accomplished track record behind her. She trains five to six times each week and tries to eat a healthy and balanced diet with a range of key carbohydrates and proteins.
Simona Halep
Simona Halep is a professional Romanian tennis player, who currently holds the world number one ranking. She has played from a very young age and is widely regarded as a skilled and talented player.
Halep underwent a breast reduction surgery to help improve her game and has since gone on to reach new heights in the tennis arena.
Petra Kvitova
Kvitova is a Chezh professional, known for her powerful left-hand groundstrokes. She has stated in interviews that she is not a good cook, so often eats out in restaurants, and regularly treats herself to desserts such as vanilla ice cream. She makes an active effort to eat lots of fruits and veggies, and avoid meat where possible.
Daria Kasatkina
Kasatkina is a relatively young competitor, turning 21 just a couple of months ago. She has been touted as 'one to watch', and it'll be fascinating to see how this young woman progresses through the 2018 Wimbledon tournament.
Feeling inspired? Here's how to get into tennis
If watching Wimbledon has got you itching to race out and buy a racquet and some tennis whites, take a look at some of our top tips that will have you out on the court in no time!
Tennis tips for beginners
Practise makes perfect
If you're new to tennis, or you've not played for a number of years, it may be a little bit of a struggle once you're on the court for the first time. Don't worry about this - with a little more practise, you'll feel more confident and able to tackle more advanced opponents.
Take a look at some tutorials
It can be really helpful to look at some tutorials to help you master your technique and improve your game. Take a look at videos available on YouTube, or seek out a tennis coach, who'll be able to give you personalised tips and advice to improve your game.
Join a local club
Many areas have local tennis clubs that cater to a wide range of sporting abilities. Joining a club will help you to improve your skills, practise matches against others and you'll most likely make some new friends too!
The Lawn Tennis Club has a handy tool where you can search for tennis courts in your area, where you'll be able to put what you've learned into practise!
Game, Set and Match - the best nutrition for playing tennis
Tennis player nutrition is carefully managed to ensure optimum health, endurance and strength during a game. Although you might not be playing at Wimbledon level, there are still a few easy ways that you can make sure you're well fuelled before training or a tennis match. Take a look at these tips below!
Eat a healthy, balanced diet
Tennis nutrition should be based upon a healthy, balanced diet, which includes plenty of fruit and veg, as well as carbohydrates and protein to help sustain you throughout your exercise. If your diet is currently less than ideal, consider making small, manageable changes such as swapping out white bread and rice for whole grain alternatives, which will help to give you a more sustainable energy release.
Fuel up well before training or a match
Before you head onto the court for an intense training session or a game of tennis, it's important to fuel up correctly to give you the energy you need. Rather than opting for expensive and sugary pre-workout supplements, look for more natural options, such as a banana with your favourite nut butter, or a slice of wholegrain toast and a piece of fruit.
Have plenty of protein
Protein helps to repair and strengthen muscles, and also helps you to stay feeling fuller for longer. After an intense period of exercise, have a protein-rich snack such as some chicken breast or a boiled egg. This will help to replenish your muscles and may help you to avoid aches and pains in the days after your exercise.
Remember to hydrate
Hydration is a key part of tennis player diet and exercise. Without proper hydration, you may feel tired and weak, and put yourself at risk of heat stroke, particularly in the warmer summer months. Make sure to take a bottle of water with you when playing tennis, and regularly take sips whilst exercising. Take alook at our blog to find out more easy ways to stay hydrated.
If you're going to be taking up tennis this summer, consider adding a daily vitamin supplement to your routine to keep you healthy from the inside out. Wellwoman Sport from the Wellwoman range of vitamins for women is designed to meet your individual needs and will support your body with the key vitamins and nutrients it needs to stay healthy.