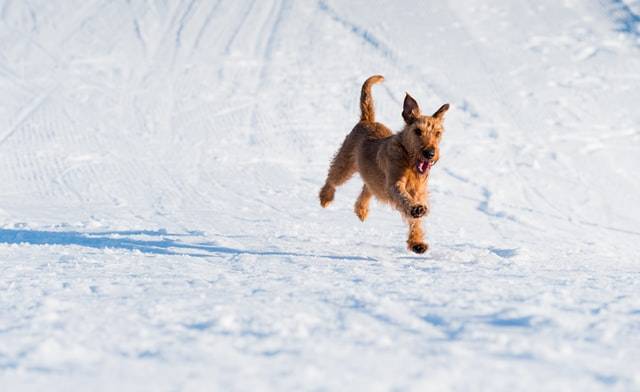 As the colder months draw in, even the most active and energetic of dog breeds may be reluctant to get out and about. Our guide offers some wonderful, warming tips and tricks to help you and your best friend stay active when the temperatures drop.
Being a dog owner in winter can be challenging, especially as chilly weather comes with safety risks that every dog owner needs to be aware of. With the right preparation and planning, winter dog walks can be an amazing experience.
Layers Are The Key To A Warm And Comfortable Winter Dog Walk
Tips For You
Whilst you might think that the biggest, fluffiest jumper will keep you warm when out on a cold winter dog walk, this is simply not the case!
Rather than wearing just one thick jumper, consider adding multiple layers of thin fleece and wool that can be removed and added as the outside temperature dictates.
Layering works to keep you warm by trapping air between the layers of fabric which helps to keep you warmer for longer.
Invest in a decent weatherproof coat with a hood, and combine this with waterproof trousers and wooly hat to make sure all bases are covered.
Tips For Your Dog
It's not just you that needs to be wrapped up warm on a winter dog walk! Your dog might benefit from layering too. A waterproof coat with a fleece layer underneath to trap in their body heat is a great place to start.
Short haired breeds really do suffer in the cold weather, so a jumper or thermal dog coat is a great idea!
If your dog already has a naturally thick winter coat, a light waterproof number may be able to limit the amount of water their coat soaks up, making for a more pleasant winter walk all round!
Ice And Snow: Avoid Slips And Trips With The Right Equipment
Ice and snow can be extremely hazardous to both dogs and their walkers. From slips and trips on black ice, to deep snow making it difficult to see what's beneath, there are steps you can take to make sure your walk is safe and comfortable.
Tips For You
Invest in a sturdy pair of walking boots with a deep tread to make sure that your feet stay warm, dry and can grip to the icy conditions underfoot. Some walkers use a hiking pole (a long pole with a sharp spike on the end) to help stabilise themselves where the ground is uneven or slippery.
Tips For Your Dog
Try and avoid walking your dog through very thick and deep snow. It's difficult to know what is underneath the snow that may hurt your dogs paws. Aim to walk your dog on areas that have already been cleared of the deepest snow.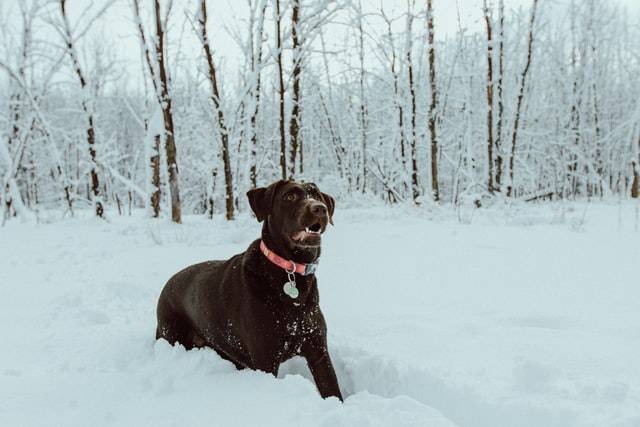 Grit And De-icer
Grit and de-icer are often used on pavements and vehicle to help reduce the risk of frost and ice forming.
The de-icer used on vehicles can be extremely poisonous to dogs and as such, you should aim to keep away from areas where these chemicals are used.
Grit can also be uncomfortable for your dog's paws. The salt in the grit can get caught between your dog's pads and cause irritation if not removed quickly after your walk.
Simply use a warm, damp cloth to thoroughly wipe their feet (not forgetting the area in between their pads) as soon as they get home.
Avoid Chills By Drying Off Properly
The unpredictable weather in the UK can mean that a sunny cold day can turn rainy and cold in the blink of an eye.
If you do get caught in an unexpected shower when out on a dog walk, it's very important that you dry your dog properly to avoid colds and chills.
Top Tip
Use an old bath towel or an absorbent microfibre towel to dry your dog from their head to their tail and top to bottom. Drying your dog in this way avoids dirt, salt or mud being transferred from their chest to their face, ears and other sensitive areas.
Frozen Rivers And Canals
Frozen rivers, lakes and canals can be a serious hazard for dogs who are running around off lead. It can be tricky for them to distinguish between solid footpath or grass and frozen water.
Top Tip
Avoid throwing a ball or letting your dog off the lead near to frozen bodies of water.
Check the weather forecast before heading out on long winter dog walks
It's a good idea to check the weather forecast before heading out on longer walks. This will help you to predict poor weather changes and plan your trip accordingly.
Prepare Properly For Dark Evening Walks
The dark winter evenings bring with them unique hazards and challenges, and it always pays to prepare. Make sure you have your dog walking kit at the ready, as it could prove important for both you and your dog.
If you do let your dog off lead in the dark, it's worth investing in a fluorescent or light-up collar so you can always see your dog.  
For you, a head torch and high-visibility vest are great additions to a dark, wintery dog walk.
What If The Weather Is Just Too Bad For A Dog Walk?
Taking your dog on a walk is just one of the ways that you can exercise them during the winter. If the weather really does take a turn for the worse and you're advised to stay indoors, try playing with toys and intelligence games to keep everyone exercised and happy.
Dog care in winter doesn't need to be complicated. Support your dog's immune system with our range of vitamin supplements for dogs. SuperDog is an advanced range of supplements designed for all dogs, no matter what their size or breed.