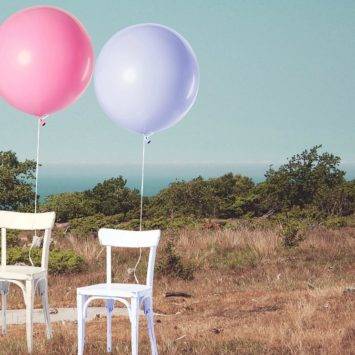 Would you announce the sex of your baby online? We look at the best gender reveal ideas
If you're pregnant, you might have heard about the trend for gender reveals, where parents-to-be announce the sex of their new baby. Of course some people chose not to find out the sex, or might want to keep the news to themselves until the baby is born - it's entirely up to you!
And while some people who do want to share the news are happy with a low-key text to their nearest or dearest, it's becoming increasingly popular to post an announcement online or even turn it into an occasion for a big themed party with the 'reveal' to all the guests at the end.
While not without some controversy - gender reveals tend to lean heavily on the stereotypical theme of pink for girls and blue for boys - they are becoming increasingly popular and a gender reveal announcement or event can be a fun way of letting friends and family know if you are having a boy or a girl baby, during the pregnancy.
If you're in the early stages of pregnancy or coming up to the 20 week scan (typically when you can find out the sex of the baby), read on. Here we round up the best gender reveal ideas to give you some 'boy or girl?' inspiration.
Gender Reveal Cake
Why say it with a text when you could say it with cake? Gather everyone round and put the kettle on. We love this idea for a neutrally decorated cake with a surprise baked inside. Or if you're a keen amateur baker, why not whip up a batch of these gender reveal cupcakes for all your friends and family?
The Big Balloon Release
Balloons can be a wonderful way of making an immediate visual impact to indicate what you're having. Sian from Quite Frankly She Said made a gender reveal announcement on her blog with the aid of a feather-filled balloon and her two sons (we'll let you find out what the answer was!).
The Balloon Pop 
This idea, where the parents-to-be pop a helium balloon to reveal a shower of colourful confetti, is a gender reveal classic - for good reason, it's so pretty! Amber from Meet the Wildes chose this format for a video announcing the sex of her second set of twins earlier last year (and if you've not checked out Amber's blog, make sure you do!)
The Surprise Outfit
Fritha from Tigerlily Quinn had her sonographer write down the sex of her baby in an envelope which she gave to a friend who selected a pink or blue set of baby clothes. They then went to eat dinner and opened the package at the same time. Watch her video here.
The Crazy Mousetrap Set-Up
Were you a fan of Mousetrap, the classic board game which involves building a contraption to eventually release a cage to catch a plastic mouse? Make sure you watch the gender reveal of this dad blogger who worked for three days to set up an elaborate Mousetrap-style machine around his house that eventually triggered a colourful smoke signal, announcing the news to everyone.
We have lots more gender reveal ideas over on our gender reveal Pinterest board. Make sure you're following us on Pinterest, too!