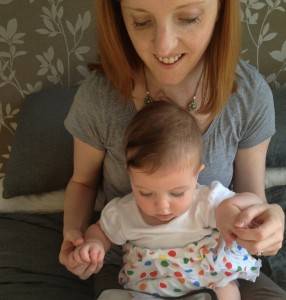 We were lucky enough to be given the opportunity to go along to The Baby Show at Earl's Court this past weekend. In its tenth year, The Baby Show is the largest pregnancy and parenting exhibition in the UK with everyone from the big-name brands such as tommee tippee, Mamas & Papas and Fisher Price through to smaller companies. There's also expert advice, Q&As and fashion shows, all aimed at parents and future mums and dads.
Our daughter Eliza is nine months old, and I was curious to see if the show had much to offer parents like us with older babies, who are past the pregnant and new parent mass-buying stage. There were also two specific things we needed to get; a pram footmuff and a mini swimming costume. After some gentle coercion, my husband agreed to come along to help me check it out on the Saturday.
Here are what we saw as the key and most interesting trends in baby buys this year:
Parent power: there were multiple companies set up by mums and dads to address specific needs they'd identified when bringing up their own children. Stand-outs for us included Bundle Bean, a five-in-one pram cover, and Cuddledry, makers of brilliant baby bath towels that are also fun too
Useful yet stylish baby gear: lots of things babies need are functional yet don't look particularly pretty. Two companies we saw that are aiming to change this are Bloom, super-stylish baby furniture, and aden + anais, selling giant patterned muslins (these would make a great present for any new parent, as they are practical yet also lovely too)
Eco-friendly products: there were several cloth nappy companies at the show, as well as one offering re-usable baby wipes. These all offer viable, environmentally-friendly alternatives to the big-name disposable brands
Practical gadgetry: the most interesting of the gadgets we saw was Baby Ping, a WiFi baby monitor that projects an image onto your iPhone or iPad
We intended to go on the Saturday morning with the aim of beating the crowds. However, as anyone who has a baby will know, the best laid plans often go amiss. We ended up getting there on Saturday afternoon, right in the middle of what would surely be the busiest time. I was terrified it would be rammed and we'd end up stuck in a perpetual pram traffic jam! However, this wasn't the case; the show is so well laid out that it never really felt squashed despite being very busy. There were also lots of cafes and break areas, including a designated baby feeding area and breastfeeding room.
Our buying mission was 100% successful. After looking at a couple of different footmuffs for our pram, we came across the previously mentioned Bundle Bean. It did the job much better than the branded versions we'd tried earlier and was a lot more practical - and cheaper, too. We also managed to pick up a swimming costume, swim nappy and pack of disposable liners (and were given information on swimming lessons). Job done.
So is The Baby Show relevant for parents with older babies? I have to say it would be most useful to go when you are pregnant, as there's so many of the things you need under one roof, and the majority of the talks are aimed at mums-to-be. However, there was a wide range for multiple baby ages and stages, plenty of discounts and enough innovative products that there was bound to be something new even for the parents - and babies, of course - who have everything. It's definitely worth checking out next time it's in town.
Gillian writes A Baby on Board: London Life as a New Mum, a blog about pregnancy, babies and parenting in the city.