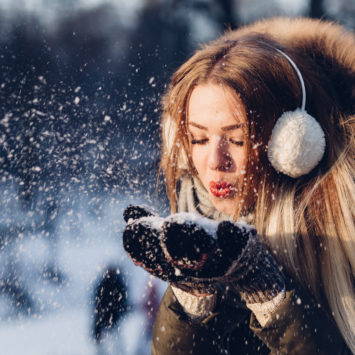 Winter can be one of the best times of the year, but for many of us, a stress-free Christmas just doesn't happen. From buying presents, to looking after family and navigating through the holiday traffic, the festive season can sometimes bring more dread than joy.
If you feel this way, you're certainly not alone - research has found that 27% of usfeel more stressed than usual over the holidays. That's why we've put together our top tips for ways to treat yourself and relax over Christmas.
How to de-stress at Christmas
Although there's lot to do over the Christmas period, there are some simple tips and tricks you can use to help relax, and fit in some me-time over the holidays.
Have a digital detox
Although phones and computers are great way to keep up with friends, family and what's happening in the world, they can be a source of stress too. Sometimes, it feels impossible to figure out how to stop worrying about work, or take some time away from relentless tweets, WhatsApp's and text messages.
Christmas is a perfect time to take a detox from your digital devices. Challenge the family to switch off gadgets for a day, and spend your time together playing board games, catching up, or in the great outdoors.
Making time for mindfulness over Christmas
Mindfulness is a simple form of meditation, which is one of the best ways to relax your mind. It focuses on helping you to stay in the moment instead of getting caught up in any worries or anxieties you may have.
There are plenty of tutorials available online, or alternatively, apps such as Headspace can walk you through short guided sessions. If you'd like to find out more about the impacts of mindfulness, take a look at our blog post here.
Stay healthy over the holidays
Although we all need some well-deserved Christmas treats over the festive period, overindulging is likely to make you feel sluggish.
Moderation is key, so make sure to eat plenty of nutritious food that will help keep you feeling energetic over Christmas. For an extra boost, consider adding a supplement such as Wellwoman or Wellman to your routine to support your body's needs.
Self care at Christmas
It's easy to find yourself looking after everyone else over Christmas, not to mention wrapping presents and organising the big day itself! A top priority should be to make time for yourself, to help keep yourself relaxed, stress-free and healthy.
Self-care includes anything that helps you wind down - that could be taking a bath, going for a run, or simply settling down in front of the TV to watch your favourite Christmas film.
Delegate Christmas chores
Christmas can be an organisational challenge at the best of times, which can quickly cause fatigue and mental fog. Although it can be tempting to do everything yourself, delegation is a great way to get some tasks off your plate and make time for yourself. Even the kids can get involved with peeling potatoes or helping with Christmas decorations.
Even if you do end up taking the lion's share of tasks this year, Neurozansupplements can help to support mental performance and keep you on top form.
These tips should help you to make this Christmas a little more relaxing and stress-free.