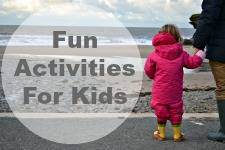 It might be cold outside but we're ready to have some serious fun!
Welcome to a brand new month on TalkMum & this month we are all about activities you can do with your baby or child. Life's too short to be doing chores and sensible things all the time, so we'll be talking about cool places to go with the little ones and how to have fun without breaking the bank.
Our TalkMum bloggers will be sharing their tips on rainy day activities (are you brave enough to get the glitter out?) and we'll be looking at getting out into the cold, whether it's just to the local park or investing in a National Trust membership. Plus, we'll have advice on the all-important preparation for a day out (if only it was a simple as heading out the door!) and what do you do if you've got a toddler and a small baby? Are there any activities that will keep them both happy?
We also want to hear from you - where are your favourite places to go with babies and small kids? Does your child love doing anything strange? (TalkMum editor Alison's daughter loves to watch people opening Kinder Eggs on YouTube....)
So stick around for lots of brilliant blog posts this month. And why not take a look at apps toddlers will love or enter our competition to win a Micro Scooter, to kick things off?