Today on TalkMum we welcome Kiran, mum to a toddler and pregnant with her second child. A freelance writer, journalist, and blogger at hellolittlemister.wordpress.com, Kiran recently returned home to London after nearly a decade of living overseas. Here she talks about finding out she was pregnant, and the start of her motherhood journey: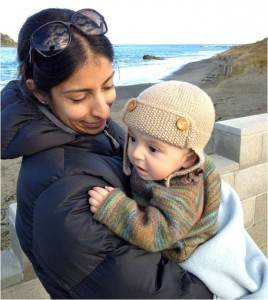 I always wanted children. As a young girl, I would picture my future, and in it would be children. I'd imagine them at school, on holiday by the sea, and at after school clubs. I'd imagine the games they would play and the books they would read. But looking back now, I can see that my vision of the future was all about them. It didn't fully occur to me that I'd switch roles and go from being a daughter to being a mother. It didn't cross my mind to think about what kind of a mother I would be, or how I would cope with bringing up my own children. In fact, it wasn't until I saw a tiny hand moving in front of a little button nose on a sonographer's screen that I really embarked on my emotional journey towards motherhood.
I was very much a newlywed when I found out I was pregnant. We were delighted, but I couldn't shake the feeling of anxiety that swept over me when I saw two blue lines emerging on the white stick I'd bought at the chemist. My husband, on learning that our lives were going to change forever, couldn't wipe the smile from his face. A while later, he returned from a walk to the supermarket and remarked that people must have thought he was crazy - he still hadn't stopped grinning.
I felt sick. Very tired, very scared, and very sick. Until the scan at twelve weeks, I didn't let myself believe we would have a baby. My mother kept telling me there was nothing to worry about; my husband said we couldn't even let ourselves think anything other than that we were having a healthy baby - but I still couldn't relax.
I remember crying in the car one morning on the way to work, telling my husband I couldn't make it through the whole nine months. It wasn't just the morning sickness that was making me ill, it was the worry about becoming a mother that had overtaken my waking hours. How would I know what to do? What if I got it all wrong?
After about fourteen weeks, when my morning sickness eased, I was able to almost banish the fear I had developed about motherhood. The nervousness was still there, but I kept it shelved at the back of my mind most of the time - and concentrated on happier thoughts such as cuddles with a newborn.
I was doing quite well until after the 20-week scan. My midwife looked at me and said, slowly, "Has anyone talked to you about these results?" The bottom fell out of my world.
After two days in bed, driving myself mad with worry, a second scan showed any fears had been unfounded. Concerns about our baby meant we kept having scans every two weeks, but we are eternally grateful he was born healthy and thriving.
Milin, who is now fourteen months old, was born by emergency c-section at 38-weeks. I had been admitted to hospital with pre-eclampsia and told I would be induced the next day. Sitting on that hospital bed, as the doctor left the room, it suddenly hit me. I was going to be a mum and I wasn't ready. Scared and overwhelmed by how life was about to change, I cried.
Of course nothing could have prepared me for meeting my son. In that moment that I became a mother, I knew we would all be fine. Over those first few weeks, my husband and I often laughed and cried about how we had no idea what we were doing. We would hold our tiny bundle and wonder how we would fare as parents. We promised each other constantly to do our best for him, and wondered continuously how we could be so lucky to have this beautiful baby who was ours.
My fears of not knowing how to be a mum had eased. They didn't matter anymore. I was trying my best, and I'd never tried so hard at anything in my life. Surely it would get easier, and I'd figure it all out?
It does get easier. I've still not figured it all out, but I have learnt more about life in the last fourteen months than I have in three decades. For me, motherhood suddenly made life make sense. It made me realise what and who was important in my life. It made me accept who I am, and better understand who I wanted to be. It made me focus on the goals I had that were truly important, and suddenly they weren't all about me. It made me comprehend why the future mattered, helped me to savour the present, and made me appreciate with new eyes what already existed around me.
Motherhood has also made me want to be a better person. It's made me stronger in my own convictions, and also made me relax a little - finally. Sometimes there is too much in one day to worry about, I've realised. Did my boy eat well enough, sleep well enough, get enough fresh air? The list can go on if I let it. Instead, I'm learning that it's better for all of us if I trust in myself and my actions as a mother. I know I'm only really at the beginning still, but motherhood has already been quite a journey.
Kiran is a freelance writer, journalist and blogger who recently returned to her hometown of London after nearly a decade of living overseas. She is mum to a toddler, and currently expecting her second child. Kiran blogs about all things mumsy over at hellolittlemister.wordpress.com