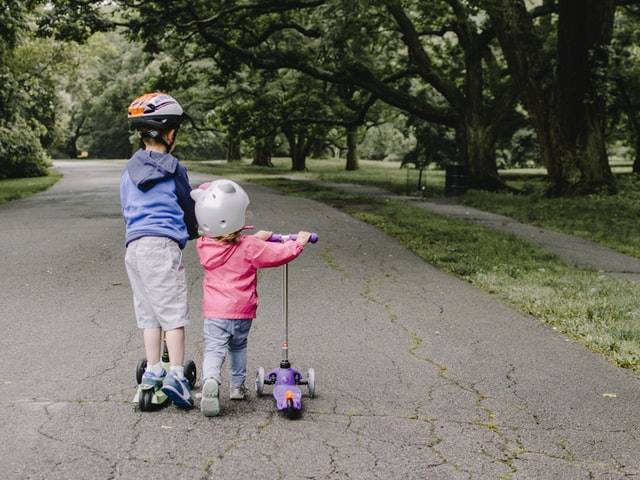 It's activities month here on TalkMum and we are talking all things fun - whether it's indoors or outdoors. One thing we can't deny will raise a smile for anyone (no matter your age) is whizzing along on a scooter. But it's important that anyone on a scooter is safe! Here, we have some great advice from Micro Scooter on scooting safely...
With more and more children scooting to school every day, the doyenne of all scooter companies – Micro Scooters UK – are on a mission to make sure that children (and their scooting parents) are scooting to school in a fun but safe way.
Micro Scooters have designed a SCOOTER MOT – a few simple yet essential tips everyone can do to make sure their scooters are safe.
How To Perform A Scooter MOT
Spin the wheels on your scooter – to make sure they go round easily and do not stick
Check that your wheels don't wobble from side to side.
The steering should turn easily and your height adjustment lever should be secure.
Check the end of your handlebars are covered otherwise it could be dangerous if you fall on them.
Push the scooter's brakes – the wheels should stop going round.
Check the bolts holding the wheels in are securely fastened – you should do this regularly to prevent the wheels from falling off.
Make sure your safety helmet fits securely and that the strapping is not frayed or worn.
Spray the wheel bearings and the folding block of your scooter once a week with WD40 - this will help to prevent the bearings from ceasing up and it will make sure the folding mechanism operates smoothly.
These quick checks done regularly will make sure your child's scooter is in perfect working condition which means the scooter itself will last longer, but more importantly, you can be reassured that your child is on a safe scooter.
For more tips on maintaining your scooter plus guidance on how to teach your child to scoot safely visit the Micro Scooter website.