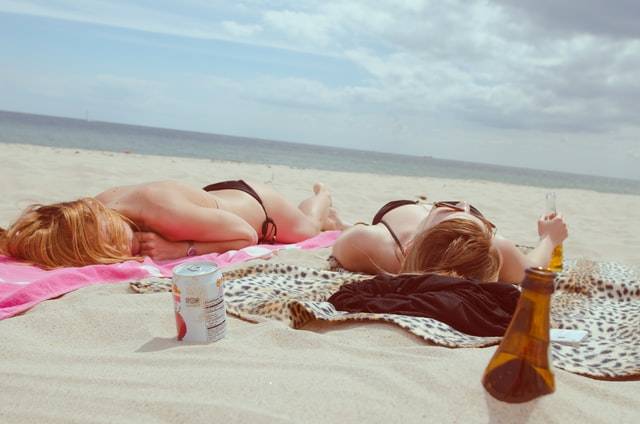 Summer is just around the corner, and with that comes the excitement of spending days on the beach, paddling in blue waters, and getting a healthy glow from tanning. If you're looking to get a natural bronze glow this summer, there are steps you should take to make sure you're tanning safely and to minimise the risk of skin damage. Find out more in our handy infographic below!
Natural Tanning Tips
For even more safe tanning options, take a look at the tips below!
How To Tan Safely With Fair Skin
If you have fair skin, you might find that you're particularly sensitive to the sun, or tend to skip the bronzed glow and head straight to red, burnt skin instead. If this is the case, it's important for you to use a high SPF sunscreen, that protects against UVA and UVB. This will protect your skin, but still allow you to tan. Other outdoor tanning tips for pale skin include:
Building up your sun exposure, starting will small bursts and gradually increasing time spent in the sun.
Keeping your skin hydrated by drinking plenty of water and using moisturisers.
Faking your tan with a gradual self tanner to help you look healthy and tanned.
Choosing The Best Sunscreen
With so many different SPFs and ratings to choose from, it can be difficult to understand which sunscreen to actually opt for. There are a few easy guidelines you can follow to make sure that your sunscreen will keep you protected whilst tanning. You should look for:
A minimum SPF of 15 (or higher if you're pale skinned or sensitive to the sun)
UVA and UVB protection
A 4 or 5 star rating, which indicates a high level of UVA protection
Sunscreen should be reapplied regularly throughout the day, and after contact with water or sand.
How To Make Your Tan Last
If you've got that healthy holiday glow, it's understandable that you'll want to make sure it lasts as long as possible. This can be done by keeping your skin healthy and nourished, for example by taking skin-boosting supplements or using nourishing skincare products. To find out more about nourishing your skin from within, take a look at our guide here.
If you've been taking a tanning vitamin, continue doing this once you're back from holiday to support melanin production. You can also top up your tan at home too, and this exposure to sunlight will also help to maintain your vitamin D levels.
Do I Need To Sunbathe To Get Enough Vitamin D?
The human body is great at processing the UV rays from the sun into vitamin D. It's a highly efficient process which means you don't need to spend hours baking in the sun to achieve the right levels in your body.
Did you know: New advice from Public Health England (PHE) highlights that an intake of 10 micrograms of vitamin D is needed each day to help maintain the health of bones, teeth, muscles and the immune system.
With this in mind, the general advice is to spend between 10 and 20 minutes in the sun per day, with both arms and legs exposed to get enough vitamin D.
One thing to note is that using a high factor sunscreen can inhibit the way that the sunlight is absorbed by the skin. If you feel like you're not achieving those golden 10-20 minutes in the sun, then a vitamin D supplement would be a useful addition to your daily intake.
Supporting Your Skin This Summer
If you're looking to support your skin this tanning season, consider a tanning vitamin such as Perfectil which will help to support skin health, and promote melanin production for a healthy glow this summer.