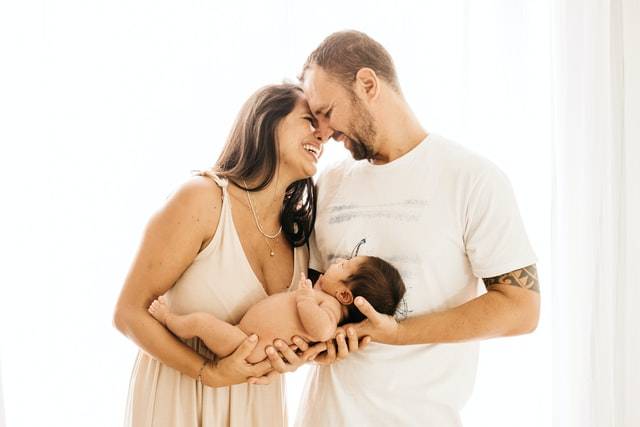 With the release of the new ONS baby name stats for 2013, we're looking at one of the big decisions that you make during pregnancy; naming your baby
While picking a baby name might initially sound like a lot of fun, it can actually be a minefield of vetoes, disagreements and memories. It's a big responsibility, if you think about it - you're giving your child a name they will have for the rest of their life.
So what was popular last year? The ONS baby name stats for 2013 revealed that Oliver and Amelia were the most common boys and girls names, with Poppy, Theodore, Oscar, Elsie and George - a nod to the Prince - all on the rise. More than 62,000 babies names were registered in total.
So if you're pregnant or have just given birth, what's the best way to pick a baby name...and what should you avoid? Here's our tips for top naming success:
Make Lists
Some people pick the name way in advance, some wait till they meet the baby. Don't be too selective early on though, as unless you've had a name in your head since you were little then you might overlook something new you could love. Make lists of all the names you like, as your newborn might be completely different to how you imagine when you first meet them.
Look Beyond The Top 10
While the top name lists are widely circulated, did you know the whole list of baby names for 2013 is also actually released? You can see all the names given in the year and also see what's popular in your area. If you're looking for something more unusual, this might be a good start.
Will It Date?

 
The list reveals that popular culture is very influential, with names from popular TV programmes, such as Breaking Bad and Game of Thrones, being on the rise. Think about this carefully - can you really imagine baby Khaleesi having to explain where her name came from when she's 30 and the TV series is long gone?
Second Time Round
It's even tougher the second-time-round, especially if you picked your favourites the first time. But make sure your children's names go well together. Avoid the same initial, unless you love a Kardashian-style match.
Will It Pass The Judge Test?
One of my friends picked her baby name on the 'judge' test, where she imagined if the name would suit her child as a high court judge. We think a better idea might be the 'playground' test. Imagine shouting the name out across a packed playground full of children and parents. Does the idea give you even a flicker of embarrassment? Then don't do it!
If You've Picked A Name, Don't Tell ANYONE
Everyone will have an opinion on 'your' name, or have gone to school with someone with that name they didn't like, and so on. But it's much more difficult for vocal family members to express dislike once they've been introduced to the newly-named tiny bundle of joy. Keep it between you for the moment.
And remember, find something you really love? Then none of the rules need apply.
Here's some good baby name resources:
The Pregnancy Plus app contains a wealth of baby name information, with top 500 lists from lots of different countries. You can select your favourites and compile a handy list
Baby naming website Nameberry has a wealth of lists ('hipster baby names' and so on). There's also useful suggestions in the lists based on names you like if you like a particular name
If older-style names are more up your street, ask a parent or older relative to tell you a list of all the names that they remember. There might be some historical gems lurking in your family tree, and it's a great place to get inspiration.
How did you pick your children's names?