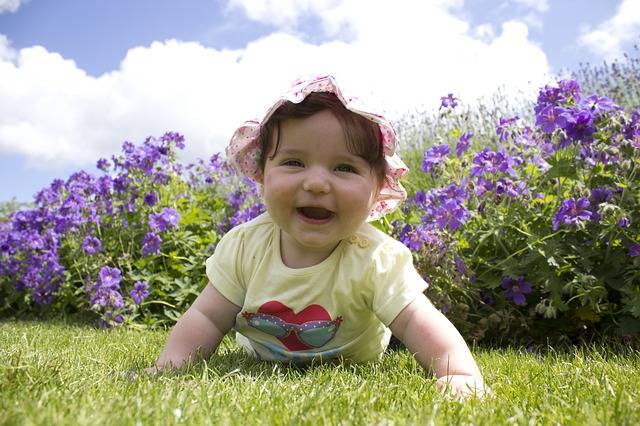 When it gets hot and sticky, don't panic. We have some great tips on how to keep your little one cool...
Us Brits moan when we get a rubbish summer, but when it gets really hot, we realise that many of us find it tricky to cope in the extreme heat. Unlike when we go on holiday, staying in hotels or apartments that have air conditioning and swimming pools, our own homes often feel like a pressure cooker of heat with no escape.
Of course, it's really important to keep babies and toddlers as cool as possible when the temperature soars. Here are some tips on how to stay safe in the sun...
Keep babies under 6 months old in the shade. Babies who are 6months+ and toddlers should stay out of the sun between

10am and 3pm

.
Use a high SPF sun cream - babies and children have a much lower tolerance to the sun because their skin is much thinner than ours. Between

SPF 30 and SPF 50

is ideal, and remember to look for the UVA star rating too - 5* is the maximum protection offered.
Apply sun cream generously and reapply regularly. Your little ones might hate having it applied, but you should be putting it on them every hour or so, while they're in the sun.
Cover them up! Loose cotton clothing is ideal in hot weather because the fabric is breathable and let's air in. Don't forget a hat and sunglasses (look for the CE mark, the British Standard BSEN 1836:2005 and a UV 400 label)
If swimming outdoors, or in a paddling pool, swimsuits / rash vests that have sun protection built in are ideal.
Give them lots of water - it's more important than ever to keep babies and toddlers hydrated when it's hot. If you're breastfeeding, you'll need to drink lots more water, and your baby will be fine with just breastmilk, but offer bottle-fed babies some water in between feeds. For older babies and toddlers, offer more water and you can even dilute coconut water which is rich in minerals.
If getting to sleep is a problem, keep your rooms cooler by closing windows and blinds/curtains all day. Buy an oscillating fan and place a frozen bottle of water in front of it, to cool the room down (but make sure the fan isn't directed at your little one). Pop your baby down to nap in just a nappy, and for toddlers, a loose cotton sheet over them, if anything, will be fine.
Do you have any tips for surviving the summer heat? Now read 5 brilliant days out for your baby.