When you first have a baby, even the thought of leaving the house can be incredibly daunting. Here new TalkMum blogger Rachel talks about getting out and about as soon as possible, and gives her tips to help you meet other mums. Rachel blogs over at The Little Pip: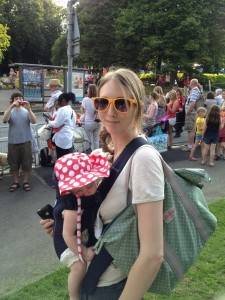 By the end of my husband's paternity leave, I'd taken the baby on a bus, in a taxi, to the coffee shop, to the pub and out for dinner. She had cried (and slept). I had breastfed in public (and somehow, in the window of a coffee shop in Euston station in rush hour). I had survived.
I knew that if I didn't do them soon, I might not do them at all. So, I made myself go out. I clearly remember our first outing. The baby in her pram, our first time pushing it. Up to the shops, to try and get myself a breast feeding vest. I felt like the pram needed indicators; in the coffee shop, my stitches would barely let me sit down. But we did it, and we survived. (the baby stayed asleep, of course).
At 6 weeks, I felt like I could do with meeting some other mums. My local church has a bumps & babes group, which I had found in advertising at the place where meetings with my midwife was held. Every week I found a new reason not to go but at 6 weeks I suddenly decided it was time to make myself go. I'm glad I did. Arriving at the same time as me was another mum, also her first time, with her baby who was a week younger than mine. We bonded over our shared experience and are now good friends.
In short, my attitude has been go out. Every day.
My Guide To Getting Out And About:
Make yourself do it even if you don't feel like it/haven't showered/ it's raining. You will feel much better for some fresh air and feeling like you've achieved something. In the early days, most people aren't sleeping much and no-one is dressed up
It doesn't matter where you go. to the coffee shop and back, round the park, to the supermarket. It all counts!
Look at notice boards in coffee shops and other places for flyers (here, baby shops, cafes and random fence corners are covered with notices of all sorts of groups, some of them baby focused). You'd be surprised which pubs and other venues host baby related events during the day. the cafes in the local parks are also a good place to look for event information
Whatever you think of the NCT, the local co-ordinator often will email you a list of things happening in your area (and you don't have to join the NCT, even to go to their events and teas)
Do an online search - in my area one of the local mums (who I met one day in a children's bookshop) has set up a website with local listings and also look at your local council website
Baby shops and children's bookshops are good places to go. No-one minds if you need to feed the baby, or if they cry. I have met mums by just saying hello and falling into conversation
Try things once. You don't have to go back
Don't be worried about inviting a mum you've just met for coffee. It's so nice to be asked
Walking (here, we walk in the park and often bump into the same mums) or running with the pram is multi-purpose. fresh air, exercise and the baby always seems calmer outside
Pack your bag! Remember the nappies, spare changes of clothes and so on. I've found being prepared actually allows you to be more spontaneous. That way, when you go to a group and everyone stops for coffee or lunch afterwards, you won't have to worry about whether you've got enough stuff to stay out. In the end, being organised means you will be happier (my top tip - pack a swaddle, or better, a snooze shade black out blind, to cover the pram whilst the baby is asleep when out and about. my baby sleeps better and more peacefully when she can't be distracted. plus, a snooze shade is UV protected so you don't need to worry about the sun on your newborn's skin).
Don't worry about trying to remember people's names (or their baby's). Definitely don't be put off talking to a mum you recognise just because you can't remember who she is. She probably can't remember your name either. I just ask. (Sometimes repeatedly, week after week). Everyone just puts it down to lack of sleep.