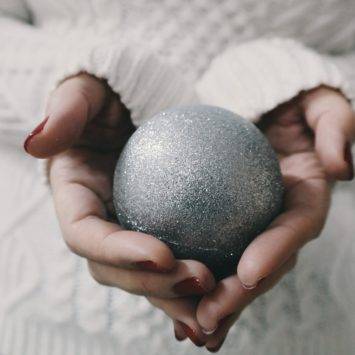 Are you pregnant and thinking about how you'll survive the upcoming festive season? Don't worry! Read our guide about how to enjoy Christmas when you're pregnant
If you're pregnant over Christmas, you might be wondering how you're going to make it through the festive season in one piece, let alone enjoy it. But while it's true that any Christmas when you're pregnant is likely to be very different - no drunken dancing on tables at the office knees-up or tucking into the Christmas Day champagne breakfast - it doesn't mean that it has to be terrible or even that you can't enjoy yourself.
Pregnant with your first baby? It's a great opportunity to enjoy yourself before it all changes. Even if it's not your first baby, you can still have a great time, we promise! Pregnancy doesn't mean you can't join in the party.
Make sure you read our tips about how to enjoy Christmas when you're pregnant:
Keep mum in the early days: If you're at the early stages of pregnancy or holding out for a lovely Christmas Day surprise announcement, then you'll need to keep your early pregnant a secret over party season. Read our guide to keeping your early pregnancy a secret from your eagle-eyed friends, with lots of tips and suggestions for glossing over the fact you're NOT drinking while everyone else is.
Find your pregnancy Christmas style: A bump doesn't mean you have to wear something frumpy and unflattering. A good tip is to buy one or two really lovely dresses that are flattering, fitted and make you feel good. If you go for a simple style you can always change it up with statement necklaces and accessories. Flats might be more comfortable, but if you still want to wear heels, go ahead! It's up to you.
Change up the festive drinks menu: While festive cocktails or sparkling wine are definitely off the drinks order, it doesn't mean you have to stick to boring lemonade. Seek out the non-alcoholic cocktail menu, or investigate fruity or flavoured sparkling water instead.
What to eat from the Christmas menu: Firstly, make sure you're aware of what you can and can't eat when you're pregnant. There is lots you can still tuck into though; remember anything vegetarian is a safe bet and make sure all meat is thoroughly cooked. And while most soft cheese is a no, you can eat stilton and also baked cheese like runny camembert, which is always delicious.
Relax and enjoy it: Despite alcohol being pretty much off the menu, you can still have fun. And think of the positives. You won't wake up with a hangover, and for once it will be someone else who does something embarrassing everyone's talking about the next day.
Define your own limits: And our final tip on how to enjoy Christmas when you're pregnant...? Remember that you are pregnant, not ill. Stay up as late as you want, or as long as you can keep your eyes open or cope with the effects when everyone else hits the free bar and gets merry. Have a disco nap beforehand if you're tired. And leave whenever you feel like it - you have a perfect excuse!
WMake sure you read our posts on what to pack in your hospital bag and our midwife's advice on labour