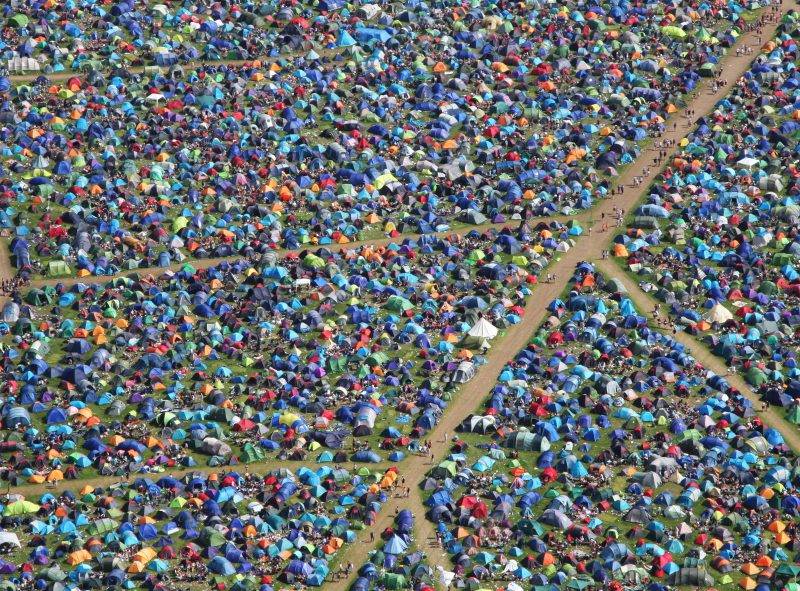 Thinking about attending your first family festival this summer? We answer all your questions with the low-down on everything you need to know, pack and do
While you may have spent your teens and twenties happily attending festivals, sleeping under the stars and having the time of your life, it's a whole different ball game when it comes to your first family festival. The idea of camping in a field with hundreds of strangers and your precious baby may be enough to make you run for the hills, or it might make you want to grab your toddlers, some glitter and be front of the main stage.
If you're recoiling in horror at memories of the Glastonbury-style mudbath of your pre-children youth, think again. Modern family festivals have something to offer everyone, including nice toilets and even *whispers* showers. Your first family festival can be fun for the whole family, but most importantly, comfortable.
So if you're tempted to dust off your tent, we're going to answer all the questions you might have about attending your first family festival.
Firstly, how do you pick your first family festival?
There are a lot of different ones to chose from, so read this good list of the top family festivals for starters. What would you prefer, a foodie focus, good music, or crafts and entertainments? Do you want to just go for the day, or camp for a week? There are also likely to be less well publicised local events taking place in your area too so read around before you book.
What's the accommodation like at festivals?
If you want to stay over, you're not just limited to your basic triangle tent, never fear! While you can still take your own tent to camp – lots of families do – we know it's not for everyone and your need for creature comforts might feature more heavily when it's you plus your children.
Lots of festivals offer ready-made accommodation, from glamping options through to airstreams via spacious bell tents with beds in. Although these are more expensive, they will be a lot more comfortable.
If you really hate the idea camping, see if there's a nearby hotel you can book to retire to for hot baths and comfortable mattresses at the end of the day (it's OK, we won't tell anyone!)
What should we pack for our first family festival?
Here's what to take with you to your first family festival:
PLENTY of extra changes of clothes. For starters, it's a great idea to layer your kid's clothing at festivals as the temperature can change so quickly and it can get quite cool in the evenings. Take clothes for warm weather as well as for cold (pack a hoody and a beanie hat). Take spare clothes in plastic bags so they won't get wet and muddy. Take lots of spare plastic bags, too. And take a spare set of clothes to wear on the journey home when everything else will -inevitably – be filthy
Be prepared for all weather! Take suncream and sandals along with wellies and at least one waterproof coat, for everyone
True festival essentials – take lots of loo roll (in a waterproof bag) and packs of baby wipes – always great for children AND adults and everything from cleaning hands to taking off the ubiquitous festival glitter. Water wipes are also useful for cleaning cuttlery and plates too if there's no other option
Pack something to mark out your tent so you can find it in a crowded field when it's getting dark. And take bunting, too, so you can decorate your tent to make it more fun
A must-have is ear defenders to protect your little ones' ears as well as eye masks to help everyone sleep
A wristband for your little ones with our phone number on, should the worst happen and you get separated from them. You can also get temporary tattoos which work on a similar basis, or alternatively write in on their arm
First aid kit essentials including Calpol, plaster, antiseptic wipes and savlon, and medicines just in case you need them.
Fancy dress and LOTS of glitter
What will the food be like at our first family festival?
If you're worried about everyone eating enough at your first family festival, don't:
There are often loads of different food options at festivals, with street food and food vans and tents. Trying out new things adds to the fun, and who knows, even the pickiest of eaters they may discover a life-long love of strong curry
If you don't want to spend lots of money, take food with you to make your own meals
Pack a cool bag with snacks for your little one if they're on solids, especially if they're keen on a specific thing and you're not sure if you'll be able to buy it in the festival
What type of children's facilities will there be?
Obviously, this will depend on each festival, but the majority of ones geared towards families will have facilities for all ages.
Most family-friendly festivals will have a baby change tent – often with wipes and nappies there for you to use
If you're breastfeeding, don't worry! There are often special breastfeeding tents but many mums happily breastfeed around and about the festival.
What other useful tips are there to know about family festivals?
If you're pregnant, don't feel you can't attend – just see how you feel, make sure you have a comfortable bed and take it easy
Don't stress if your normal routine goes out of the window a little (or a lot!). Naps and meals probably won't happen when they usually do - there's so much fun stuff going on, it's OK if things get a bit flexible while you're there
Many festivals have wagons for hire which are great for transporting your stuff, and small people when their legs get tired. Or take a lightweight pram with you instead
Phone signals can often dip at festivals so it can be tricky to call your partner if you get separated from them. Take portable chargers too
Don't camp at the far end of a field if your children aren't so keen on walking (and don't pitch your tent near the festival loos, or at the bottom of a hill)
Most importantly, don't forget to relax and enjoy yourself! Family festivals can be a brilliant bonding experience for you all and an awful lot of fun.
Make sure you also read our posts on toddler picnic ideas and tips for keeping cool with summer breastfeeding