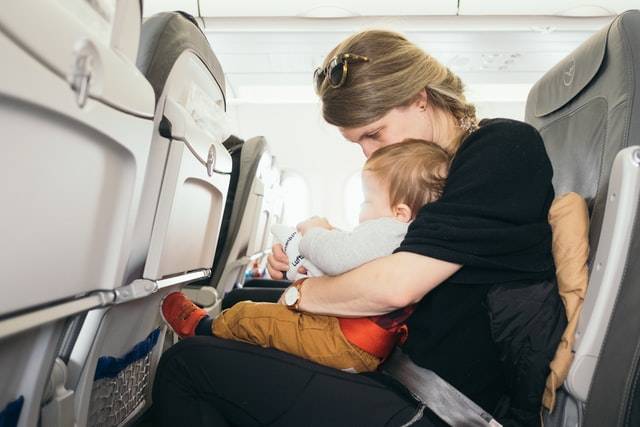 Are you off on holiday this Easter? Make sure you read our tips on travelling with a baby.
For our next post in Motherhood Month, our thoughts turn to sunnier climes...but how easy is it to travel when you have a new baby? Here's TalkMum blogger Jenny with some baby travel tips:
As the British summer drew to an end we felt it was the perfect time to take our first family holiday abroad. We had taken our son to Cornwall earlier on in the year but that was back when he only needed milk and we had a whole boot to cram everything we needed into (kitchen sink not taken but we had considered the baby bath!).
Taking a flight and having no car was a whole different ball game. See below for my much needed items for our holiday, which turned out to be absolutely perfect. As fun as baby free holidays were, I would choose one with my (well behaved) baby any time.
So Here Are My Tips On Travelling With A Baby:
- Think About Food
The holiday menu pre-babies used to mean long, leisurely lunches but food has a different significance when you travel with babies. As Carter was still in that tricky stage of needing more than milk but not able to eat what we eat we had a real headache deciding if we should use most of our luggage allowance on food pouches (I had visions of burst pouches all over our clothes!) or winging it when we got out there. Luckily I have a Beaba Babycook Neon Food Processor (from John Lewis, £119.00) so we took that with us and with that I was able to steam and blend fresh veg from the local market. It might seem over the top to take it with us but I am glad I did as despite the hotel saying the provided purees for children the staff were never sure if there was added salt or not. If you don't want to risk it and like to know exactly what your baby is eating this could be the ideal solution
- Take A Light, Compact Buggy
A compact buggy is a must for a holiday. Our regular buggy is Bugaboo and as nice as it is, the weight of it and the fact it folds in two pieces made it impractical for a holiday. Step forward the Quinny Zapp Xtra2, Mothercare, £200) Quinny Zapp Xtra2. Stylish, compact and agile it is a practical pushchair with three forward and two rearward-facing recline positions. The full recline position combined with the extendable sun canopy meant hubby and I could enjoy a meal while baby snoozed. It is the perfect buggy if you want comfort and style without it being cumbersome. The Quinny Zapp Xtra2 is actually a travel system so it is great for those who might want to take a car seat too.
- Invest In A Sky Mattress
The thought of my active baby on a flight actually made me feel a bit nervous because I could see him as being that baby that everyone dreads sitting next to on the flight! However as lots of friends said, he truly surprised me and slept for most of the two hour flight! The fact that he had the SkyBaby Travel Mattress (JoJo Maman BeBe, £33.00) may have helped. It worked with the infant belt loop allowing him to lie across my husband and be cushioned against the hard arm rest. The mattress rolls up into its own carry bag which I just attached to my backpack.
- Don't Forget Hygiene! 
Now that my baby is at that ultra-curious stage where he pokes everything with his index finger to explore and chews anything he can get hold of I like to make sure I always have Milton Wipes handy (from Boots, £2.05) . As soon as I got on the plane I wiped everything within arm's reach including the safety cards which of course went straight into his mouth.
- Take A Backpack Changing Bag
Your hands will be full. You will have a baby to carry half the time as well as numerous pieces of luggage. Although they are only small items, my baby's clothing took up a whole suitcase (of course half of this was not needed at all but I don't know the meaning of packing lightly). A backpack changing bag will allow you to have your hands free and ready for anything. If budget allows, splash out on a JuJuBe Be Right Back with Teflon fabric protector, exterior insulated pockets and multiple storage pockets it is as stylish as it is practical as it is gorgeous.