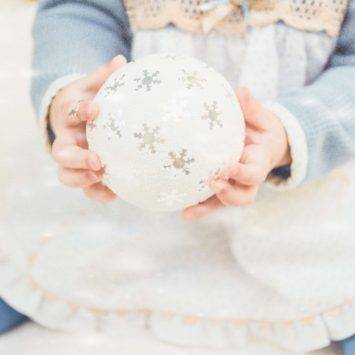 What are your favourite family Christmas traditions?
Every family has Christmas traditions - those things you do every year because it's Christmas, the special acts and activities that mark out the holiday season and make it even more magical for everyone. From making the pudding on stir-up Sunday to leaving a sherry out for Santa to Christmas Eve carol singing they are the little things that make Christmas Christmas.
When you have a family of your own, it's likely that you will want to carry on the Christmas traditions from when you were young but then start some new ones, with your own children, too.
To give you some festive inspiration to start new traditions, we asked some of our favourite bloggers to tell us about their favourite family Christmas traditions. So from new pyjamas to a certain Christmas Eve dish, here they are:
We have sushi every Christmas Eve, not very traditional but the only way I can convince my husband to spend hours in the kitchen making sushi is to say it's a family tradition. Fiona, Watching you Grow
Each Christmas we have an advent calendar with a daily activity idea. My favourite tradition each year is going to the woods and finding a lonely tree to decorate with baubles (read about it here). Kerri-Anne, Ginger Lily Tea
I always watch Love Actually on Christmas Eve and on Christmas Eve morning we always have brunch with family friends who we've known since all the kids were babies. Jo, Slummy Single Mummy
On Christmas Eve we go out for a big old yomp around Bristol harbourside. We take the kids to the skating rink, then out for dinner. One year we wrapped their scooters in battery fairy lights and sang rude versions of Christmas songs all the way home. Then new pyjamas and bed. Lottie, Oyster and Pearl
Every Christmas Eve I take the kids to the town crib service while their dad makes us a 'special Christmas tea.' The kids love carrying the nativity figures into the stable and singing carols. Then we get home to all our favourite food and drink. After tea, we sprinkle Reindeer Food in the garden to help the reindeer find our house. Then we come in and have baths with a (very) relaxing (all the lavender) bath bomb to help the kids sleep. We put on our Christmas PJ's, put out a mince pie/cake or biscuit and a glass of drink (usually prosecco as he's had enough sherry!) for Santa, and a carrot for Rudolph. The kids put out their Santa sacks then we go upstairs to bed. We read The Night Before Christmas and a new book of choice then try to sleep eager to see what Christmas day brings... Claire, Diary of the Evans Crittens
We have lots! We always go out for lunch on Christmas Eve, as that's what my husband used to do as a kid. Then we come home and make magic reindeer food before going for carols around the Christmas tree at the village hall. The girls always have The Nutcracker as their Christmas Eve story, wearing their new Christmas Eve PJs. After they're in bed we have steak and chips for tea! Molly, Mother's Always Right
We go to church on Christmas Eve. Early on Christmas Day we go for home-made coffee and bacon sandwiches on Clifton Downs with the dog. On Boxing Day we always go to Wincanton Races. I get very annoyed if someone tries to stop me watching Eastenders. Eleanor, The Bristol Parent
On Christmas Eve everyone gets new pyjamas, usually comedy Christmas ones for my husband, of course. We read The Night Before Christmas and leave a carrot and glass of sherry out for Santa. Once the children are in bed the grown-ups have party food and watch the Gavin and Stacey Christmas special - obviously, that is a relatively new one! Gill, A Baby on Board
What are your favourite family Christmas traditions? We'd love to hear about yours, from the wonderful to the weird. Let us know! Make sure you catch-up on our Christmas craft round-up and how to survive party season when you're pregnant